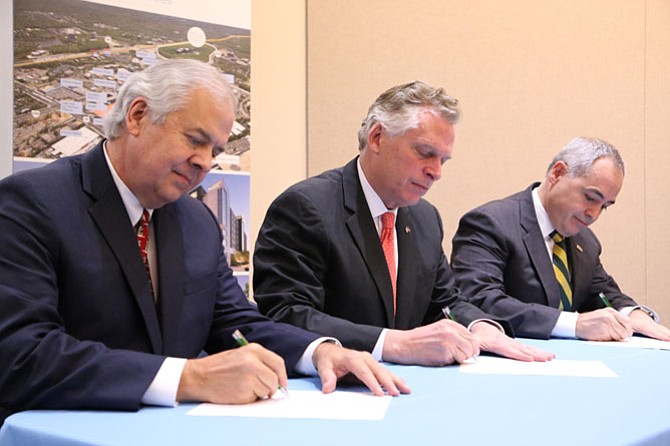 Researchers and doctors from George Mason University and Inova Health System will collaborate on a series of personalized medicine research projects under a new partnership between the two institutions. The effort will include joint research on heart disease, cancer and metabolic diseases.
In announcing the agreement late last month, Gov. Terry McAuliffe, said that the joint research effort, "will spur opportunities for entrepreneurship, create new companies and generate jobs that will grow our economy and help us prosper."
Under the agreement, the institutions will share facilities at both the Inova Center for Personalized Health in Merrifield and at Mason's Science and Technology Campus in Manassas. The partnership calls for the establishment of Inova-Mason Proteomics Center at the Inova Center for Personalized Health campus and Mason-Inova Institute for Personalized Medicine Public Policy and Ethics, which will address public policy and ethical issues related to personalized medicine.

The partnership gives Inova researchers access to Mason's animal facility where they will be able to test new drugs. Inova CEO J. Knox Singleton, calls the partnership an investment in "research and development to help keep healthy people healthy and provide precise, effective and personalized treatment to patients we are privileged to serve."
Inova will contribute $2.5 million in funding and will work with Mason to raise additional money for the project over the next five years.
A joint steering board made up of key administrators from both Mason and Inova will run the venture. The partnership will establish a joint fellowship board to recruit researchers from around the world.

Mason will also begin offering a graduate certificate program in personalized medicine, which Mason president Ángel Cabrera, says underscores the university's commitment to "delivering research of consequence that improves lives, drives economic growth and helps solve the most complex problems of our time."
Gerald L. Gordon, Ph.D., president and CEO of the Fairfax County Economic Development Authority, said, "It is important that two of Fairfax County's major institutions and economic development assets are formalizing a collaborative relationship today around personalized medicine. Separately Inova and George Mason have strong research capabilities for personalized health but, working together, they will multiply the research and discovery capacities at both which will, in turn, only improve the economic development potential for this burgeoning industry and increase the possibility of spinning out companies and creating high-paying jobs that will improve the general health and well-being. The job creation aspect is important as well because it will further diversify Fairfax County's economic base."