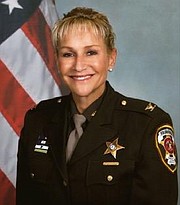 The McLean Area American Association of University Women (AAUW) branch event on Saturday, Jan. 16 features the first woman to lead the Fairfax County Sheriff's Office in its 273-year history, Sheriff Stacey Ann Kincaid. She won a special election in 2013 to fill the balance of a term through 2015. On Nov. 3, 2015, she was re-elected to a full four-year term. The meeting is at the McLean Community Center at 10 a.m.
Sheriff Kincaid is a graduate of Langley High School in McLean. She received her bachelor's degree in political science/criminal justice from Frostburg State University in 1987. Her summer internship at the Sheriff's Office sparked her interest in a career as a sheriff.
Sheriff Kincaid serves Fairfax County, the City of Fairfax and the Towns of Herndon and Vienna. She is a 28-year veteran of the Sheriff's Office. In 2008, she received the agency's highest honor, the Distinguished Service Award, which recognizes a career of sustained, exemplary performance. Throughout her career, she has taken an active leadership role in community relations, especially concerning the safety and well-being of children, seniors and individuals suffering from mental illness. In 2014, Lawyers Weekly presented her with an Influential Women of Virginia award. The honor recognizes women in all fields who are making notable contributions to their chosen professions, their communities and society at large. She is a graduate of the Leadership Fairfax Program, a 10-month curriculum focused on community issues that is designed to build a diverse pool of skilled, enthusiastic leaders in the public and private sectors.
As the sheriff, Kincaid is deeply committed to leading the most professional, fiscally responsible and innovative organization that ensures the safety and security of all the people she serves. In the Adult Detention Center, she has expanded education, training and life skills programs to help inmates become more productive members of the community and reduce the chances that they will return to jail. She changed the inmate release time from midnight to 8 a.m., when resources and services are more readily available. And she initiated resource fairs that connect inmates with the help they will need to find shelter, employment, health care, substance abuse treatment and mental health services upon their release. She has implemented many changes in the Sheriff's Office that focus on mental illness, which affects over 40 percent of inmates. She also helped spearhead Diversion First, the county's collaborative initiative to reduce the number of people with mental illness brought to jail by diverting non-violent offenders experiencing mental health crises to treatment instead of incarceration. For agency staff, she created a more transparent and objective promotions process and implemented enhanced training based on nationally recognized and state approved best practices. In addition, she has created a culture of engagement. Sheriff Kincaid and her staff are out in the community meeting people in their neighborhoods, clubs, schools, businesses and places of worship. She is listening to concerns and finding solutions to improve the administration and operation of the Sheriff's Office.
Come hear about her innovative leadership initiatives in this position, and what her experience has been as the first female sheriff in Fairfax County's history.