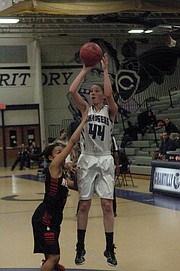 The Herndon girls' basketball team overcame a six-point deficit early in the fourth quarter, twice took the lead during the final period and had a chance to win in the closing seconds of Monday's Conference 5 contest at Chantilly.
But after junior guard Indeya Sanders' runner off the glass failed to drop, the Hornets' found their fate resting in the hands of Chantilly's best player.
With the score tied at 48, Chargers junior Mary Clougherty rebounded the Sanders miss and was fouled with 2 seconds remaining. With Chantilly in the bonus, Clougherty went to the line to shoot one-and-one. She calmly knocked down the front end and made the second, as well, giving Chantilly a 50-48 victory in a battle of teams that had already reached double digits in the win column.
Clougherty, a first-team all-conference selection last season, finished with 19 points and 11 rebounds.
"Mary's our best player," Chantilly head coach Kurt Sporkmann said. "... We want her on the line."
Was Clougherty comfortable in that situation?
"I've always liked the high stress," she said. "I've learned to not get butterflies."
Clougherty scored 11 points in the first quarter and had 13 at halftime, but didn't score in the third. No. 44 went 6-for-6 at the free-throw line in the fourth quarter.
What makes Clougherty a dangerous player?
"Her simple basketball IQ," Sporkmann said. "She knows how to manage a game and she knows how to take care of the players around her. We're lucky enough that Mary is flexible to play a variety of positions for us. She'll put the ball in her hand and be our guard, she'll go down low and post up, she'll play against the fastest guard, she'll play against the biggest post. ... She's versatile and she's accepted that role."
The following night, Chantilly defeated Robinson 50-43, improving the Chargers' record to 13-2 overall and 3-0 in the conference.
With the loss to Chantilly, Herndon dropped to 10-2. After 10 straight wins to open the season, the Hornets opened conference play with a 57-44 loss to defending region champion Oakton on Jan. 8 before falling to Chantilly on Monday.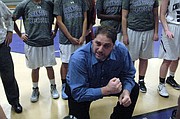 Senior forward Shawnice Gresham had a big night for Herndon, finishing with 19 points and 12 rebounds. She tied the score at 48 with a putback with 51.4 seconds remaining.
"I think Herndon is just a tough team," Sporkmann said. "They are one hell of a team. ... They've got probably one of the best post players, one of the best rebounders in Shawnice. She's tough. We did everything we could to game plan against her and she still got [19 points]."
Junior guard Janiece Loney scored 10 points for Herndon and Sanders finished with eight.
Junior forward Sarah Maxseiner had 10 points for Chantilly and junior guard Chiara Ballam finished with six.
The Hornets will travel to face Potomac Falls at 7:15 p.m. on Thursday, Jan. 14. The Chargers will travel to face Oakton at 7:30 p.m. on Tuesday, Jan. 19.
"I'm proud of my girls for coming together this year and really keeping their eye on the next play, worrying about the next thing," Sporkmann said, "and not worrying about off­court crap and drama."