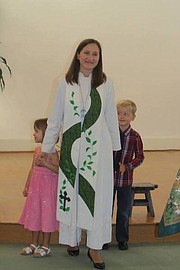 Emmaus United Church of Christ (UCC) of Vienna welcomes the Reverend Kristen Curlee as its new minister this January after an 18-month nationwide search. She brings with her a strong commitment to social justice and a passion for creating an inclusive community that nourishes people of all ages in their faith.
"I look forward to dreaming big and taking some risks with [Emmaus], so our ministry engages, challenges, blesses, serves and reaches within and beyond the walls of the church," Rev. Curlee wrote in a letter to the congregation recently.
Over the past several years Rev. Curlee has been a force for good in the community, building relationships with key "helping hands" organizations to create ministries that included Community Spotlight (movie and panel conversation), a neighborhood food drive, and partnered with Offenders Aid and Restoration to host offenders doing community service. She grew a church school program from fewer than five children with sporadic attendance to 20.
"The strength of my ministry is my ability to foster a community of welcome where people are able to explore, share, and expand their understanding of God and their gifts for ministry," explains Rev. Curlee, and her record of engagements bears out this claim.
She was chosen in 2013 to join the Next Generation Leadership Initiative, a national UCC transformational program of ministerial leadership development with a 10-year commitment. Committed to supporting local and church communities, she has variously served as board president of Meekins Cooperative Preschool, chair of the Potomac Association Committee for Christian Education, Central Atlantic Conference delegate to the UCC's General Synod, and member of the Potomac Association Social Action and Mission committees. She has also organized and led UCC youth mission trips.
Rev. Kristen, as she prefers to be called, most recently pastored Bethel UCC in Arlington for five years prior to accepting the call to Emmaus. She previously served as director of Christian Education at Christ Congregational Church in Silver Spring, Md., from 2008-2010.

Awarded the Richard and Helen Brown Scholarship for Pastoral Education, she obtained a master in Divinity from Lancaster Theological Seminary, Lancaster, Pa. in 2009. Rev. Curlee received a bachelor in Business Administration from American University, Washington, D.C. in 2004.
She lives in Vienna with her two children and her mother, Sandra Casmey.
Emmaus UCC is celebrating 50 years in Vienna. All are welcome to attend worship on Sundays at 10:30 a.m. and to join adult religious education classes on Sundays at 9:15 a.m.
Emmaus UCC is located at 900 Maple Avenue East in Vienna. More information at emmausucc.org and on Facebook.