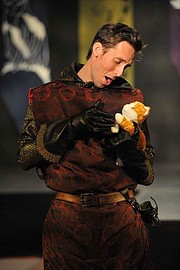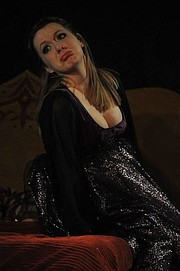 Red Knight Productions and the Port City Playhouse in Alexandria are presenting "Medieval Story Land" now through Jan. 30. When a simple elf with a heart of gold is given a magic sword, he must go on a dangerous journey to save Medieval Story Land from the evil Dark Wizards of Dark Wizard City and the terrible Dark Black Darkness. The show directed by Scott Courlander is a sequel to the 2014 co-production with Red Knight Productions and a must-see for fans of all ages who like their swords and sorcery loaded with laughs.
Director and producer Scott Courlander said "Medieval Story Land" was the play that launched his company. "Though I wrote the show, this was my first opportunity to direct it as well," he said. "In 2014, we produced the 'prequel' to 'Medieval Story Land,' 'The Ballad of the Red Knight,' at Port City, and it was tremendously well received. There are three plays in the 'Medieval Story Land' saga, and Port City has presented us with the wonderful opportunity to tell that story in order at the same venue for the first time returning many of the same actors in the same roles."
He said the play is first and foremost a comedy, a parody of the fantasy genre and a retelling the hero's journey. "Second, it's an adventure, full of magic, monsters and sword fights," he said. "But those two elements really disguise a play with a lot of heart. Our goal is to pull you in with the laughs and the fireworks, but ultimately to tell a story of self-realization. Also, we're just trying to have as much fun as possible."
He added: "Directing your own work can be an advantage and a handicap. On the one hand, I know the material about as well as one can and certainly never wonder about the author's intent. On the other hand, there's an important interpretive element of directing that can get glossed over. There's value in coming to the text without any preconceived notions and with a fresh creative slate. As a result, I've had to divorce myself from my role as playwright and open myself up to see the work anew. I put a lot of trust in my actors' creativity to find moments and elements and themes that I didn't know were in there."
He said they're not trying to make any grand social or political statements or advance any agenda. "We're trying to be funny, but not at anyone's expense; we're not trying to push any artistic envelopes. We're trying to tell a story and have fun doing it. We hope the audience has as much fun as we do."
Actor Chris Herring, who plays the Red Knight, said he is someone you always want to win. "He is someone you want in your corner. He may have tough love for you but at least it is love. The Red Knight is the wise sage with a fire sword of justice."
Having played the Red Knight in the two bookend shows of this trilogy, he said his biggest challenge was to find exactly what state the Red Knight is in at the start of this story. "Red's timeline is long throughout this trilogy so being as true to the present circumstances for him was a welcomed challenge."
He added: "I hope folks will take away a fun and memorable experience after they see this show. There is a little something in this story for kids of all ages."
Actor Stephen Mead plays the role of the narrator, a clown. "I announce the scenes and keep the show moving. I have been in 'Medieval Story Land' as the narrator twice before, and Scott, the author, has written two other plays with parts for me as the same narrator/clown. Quite an honor," he said.
He said it is quite a challenge to get the witty text, which for his character involves a certain amount of repetition, word perfect, "but that is my goal."
He said the show is a very happy play, suitable for all ages, funny and fun with exciting swordfighting sequences.
"I am also excited because after the intermission of each performance I will be performing a solo show of about half an hour, 'Victorian Storytime,' playing all the characters and performing all the actions, as I have done in many venues in Great Britain, Europe and the U.S.," he said.
On Friday nights, he'll be performing from "Nicholas Nickleby" by Charles Dickens about a theatrical family, the Crummles, with a child star "the infant phenomenon." On Saturdays, the performances will be scenes from Lewis Carroll's "Alice's Adventures Underground" or "Through the Looking-Glass," which are funny and suitable for all ages.
Actor Reginald Richard plays the Green Knight, Father, and Sir Swordsley. "In the play each one of these characters seems to have something or someone they want to protect," he said. "In the case of the Green Knight, it's a powerful sword. Swordsley is very guarded when it comes to a young squire named Gil. They all have a thick displeasing layer of anger that prevents them from trusting others."
As far as challenges, he said the fight sequences have definitely been a challenge. "You're working with large swords and trying to make choreographed stage combat look believable. There's a lot of physical work and hand/eye coordination involved," he said. "However, I'm enjoying the experience of battling toe-to-toe with some of the actors."
Katie Courlander plays the role of Minda, a princess; Moonstar, a fate-nymph; and The Voice, a mysterious voice in a dream. "Minda is the love interest, and your typical young, sweet girl who gets mixed up with elves and trolls. She has a big heart and is Todd's biggest supporter," she said.
As far as challenges, she said she played the roles of Minda and Moonstar in the premiere performance back in 2012. "Since that performance, I've played Minda's mother, Fanglett, in the prequel and sequel ("The Ballad of the Red Knight" and "Witches"). It's been a little bit of a challenge for me to play my own daughter. I've come to know Fanglett from the corresponding works so well, that I had to strike a balance of playing similar to the mother role, while making Minda a character in her own right."
She said she hopes the audience falls in love with theatre all over again. "There is something in this show for everyone — the adults will laugh harder than the kids. We're working with an extremely talented cast, and I think the audience will enjoy watching 12 performers create an entire fantasy world. They'll leave the show feeling connected to their loved ones and to their imagination."
Port City Playhouse in Alexandria is presenting "Medieval Story Land" on Jan. 22, 23, 29 and 30, at 8 p.m. Matinees are Jan. 23 and 29, at 2 p.m. Tickets are $18 and $20. The venue is located at the corner of Quaker and Crestwood Lanes in Alexandria. The address for the Lab at Convergence is 1819 N. Quaker Lane in Alexandria. Visit the website at www.portcityplayhouse.com.