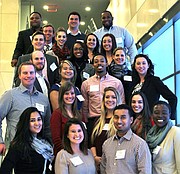 On Wednesday, Jan. 20, Leadership Center for Excellence, powered by Leadership Arlington, welcomed its newest class of the Young Professionals Program as it gathered for the first time for a day-long retreat.
The Boeing Company hosted the launch session for this four-month program that focuses on civic and philanthropic awareness to promote a deeper level of community engagement throughout the D.C. metro region. Twenty-three participants were selected to engage in the Spring session of this experiential program, now in its ninth session. The new class joins Leadership Arlington's membership of over 1,200 leaders, representing over 600 organizations.
Participants in the Young Professionals Program Spring Class of 2016 are:
Uche Akobundu, Meals on Wheels America;
Emily Almand, Arlington Public Libraries;
Victoria Bown, Arthritis and Rehabilitation Therapy Services;
Scott Desmond, Accenture Federal Services;
Laura Dietsch, Verizon;
Meredith Eisenhart, Arlington County, Department of Human Services, Aging and Disability Services Division;
Kyle Epting, Arlington Law Group;
Nikki Ferraro, HITT Contracting;
Ling Gao, AmeriCorps: The Literacy Lab;
Reem Garada, Arlington Community Federal Credit Union;
Chelsea Jacobs, Ann Wilson Homes, Keller Williams Realty;
Serena Jezior, Council on Foundations;
Bernie McKeever, TransWestern;
Sawyer Mueller, Accenture Federal Services;
Alison Nashed, Freddie Mac;
Megan Pierce, The Shooshan Company;
Chris Rozario, Freddie Mac;
Kate Rutherford, CEB;
Kate Shooltz, TCS Realty Associates;
Tyson Stanislaus, Arlington County Fire Department;
Taylor Vaughn, United Bank;
Aaron Walsh, Marymount University;

Travell Williams, Freddie Mac.
Premier sponsors are Arlington Community Federal Credit Union and Marymount University.
For more information, visit www.leadershiparlington.org.