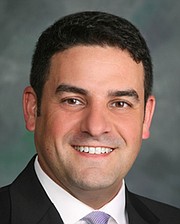 Douglas S. Levy recently joined MercerTrigiani as counsel to the law firm.
Levy has legal experience in representing property owners associations and condominium unit owners associations throughout Virginia, Maryland and Washington, D.C. He previously practiced with firm principals, David Mercer and Pia Trigiani, and more recently has been associated with a Northern Virginia law firm where he represented community associations in matters ranging from corporate board governance to complex construction litigation.
A native of Norfolk, Va., and graduate of Emory University, Levy also received a Master of Arts degree in 1998 from The George Washington University's Elliott School of International Affairs. He obtained his law degree in 2002 from William & Mary Law School and served as law clerk for Leroy R. Hassell, Sr., Chief Justice of the Supreme Court of Virginia.
MercerTrigiani is a real estate law firm at 112 South Alfred St. in Old Town Alexandria.
See www.MercerTrigiani.com.