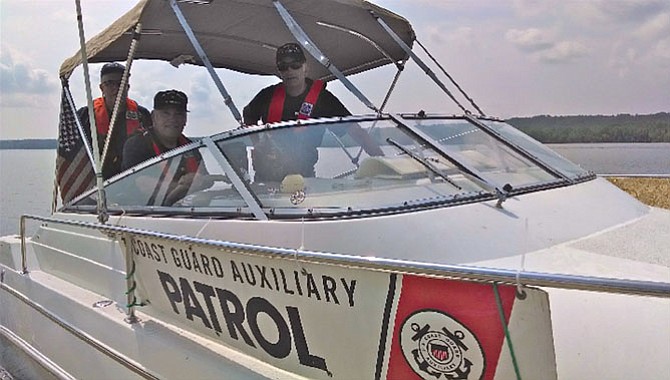 Since 1939, the U.S. Coast Guard Auxiliary has been supporting the Coast Guard in all its work — from conducting safety patrols to participating in search and rescue missions.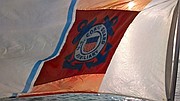 The all-volunteer USCG Auxiliary is made up of divisions in all 50 states and four U.S. territories. USCG Flotilla 25-08 of Mount Vernon is one of these local groups, focusing on the promotion of recreational boat safety. The group comprises about 80 Northern Virginia volunteers that meet at least monthly and educates the public on a full-spectrum of sea vessel safety matters.
Woodrow Johnson, human resources staff officer and vice flotilla commander, said the local flotilla is all volunteer and thus the Department of Homeland Security — to which the U.S. Coast Guard is assigned in peacetime — cannot and does not have any formal command authority over any member of Flotilla 25-08.
"We are, and always remain, volunteers," Johnson said. "We are always free to decline any request made by the Coast Guard. Suppose, for example, a boat sinks in the Potomac River and the Coast Guard wanted three Auxiliary boats and crew to search for survivors. Although we are all likely to volunteer to help to meet their needs, no one is obligated to do so."
"Semper Paratus" — Latin for "Always Ready" — is the USCG Auxiliary's motto, and Johnson explained that even at the Coast Guard's Auxiliary's inception, the volunteers took the mission of the organization very seriously.
"The Auxiliary provided many private boats and crew that were used to serve various missions to support the military and protect U.S. waterways during World War II," Johnson said of the 50,000 members who joined the war effort as civilians.
Throughout the Auxiliary's history, Johnson added, it has provided boats and other tools and vessels for national defense efforts.
"Flotilla 25-08 focuses on boats, but the Auxiliary members have donated other 'facilities' that they own to support the Auxiliary," he said. "This includes airplanes and various kinds of radios — for example, short-wave radio transmitters."
When a member officially joins the Auxiliary, Flotilla 25-08's former Flotilla Commander Rich Miller said that it involves a simple oath.
"When a new member enrolls, the Flotilla Commander administers an oath," Miller said, with the following being part of the wording that the new member accepts:
"The pledge you are about to take is your commitment to support the U.S. Coast Guard Auxiliary, an organization dedicated to the promotion of boating safety and providing assistance to the U.S. Coast Guard in the fulfillment of its civil functions.
"You accept this membership as a volunteer and as a member you are charged with certain responsibilities and obligations. These include your willingness to support the Coast Guard Auxiliary and its purposes, to faithfully execute your duties and to participate in its authorized programs to the best of your ability and to the extent that time and circumstances permit."
The volunteer status of the Auxiliary highlights just how much heart each member puts into their own flotilla.
"Here is an interesting fact that highlights the nature of being a volunteer," Johnson said. "The Active Duty side of the U.S. Coast Guard has a 'chain of command.' The Auxiliary has the same thing, but it is called a 'chain of leadership.' Thus, we get to lead our members, but we do not get to command them. If we are good leaders, we will have followers. If we are not good leaders, well, everyone might go a different direction."
FLOTILLA 25-08 focuses primarily on recreational boating safety, offering sailing and safety courses for the public throughout the year. They meet every third Thursday of the month at 6 p.m. for a workshop and 7 p.m. for a business meeting at the Mount Vernon Yacht Club.
All events are open to the public, and Johnson encourages anyone interested to contact the group before attending.
The Mount Vernon group is no exception to the "Semper Paratus" motto.
"How do we stay prepared?" Johnson said. "That is easy: training, training and more training. The Auxiliary follows the same training as the CG. When Auxiliarists want to become qualified to serve on boats as crew, they follow the same programs as those who serve in the active duty. Although I cannot speak to the details, I know that there are a couple of exceptions for the standards. For example, Auxiliarists do not need to maintain the same level of physical fitness. After all, a 50-year-old Auxiliarist might not be able to run as quickly or do as many pull ups as a 25-year-old active duty seaman."
Still, Johnson reiterates that the UCSG Auxiliary does not do military, or law enforcement, work in its regular functioning.
"The Auxiliary does not do military work," Johnson said. "We are able to do everything that active duty are able to do with two exceptions: We do not issue tickets, and we do not carry guns. In other words, we do not do law enforcement or military functions."
While not regularly relied on for military duties, the Auxiliary remains crucial to the U.S. Coast Guard. "In 2014, there were 36,235 Active Duty Coast Guard seamen and 29,620 members of the Auxiliary," Miller said. "The Auxiliary frees the Active Duty Coast Guard to attend to the military and law enforcement duties. Generally, all our activities are directed to boating safety. Every year, over 500 people die in boating accidents. The statistics show that most people who die never had a boating safety class. I feel good that our work in teaching boating safety probably saves lives. And I'm sure we saved the life of an exhausted paddle boarder who got separated from his board on a windy day in the Potomac River. We picked him up on a river patrol."
The only age requirement for the USCG Auxiliary is that prospective members must be 17 years old, so Flotilla 25-08 could hypothetically be made up of 17-year-old men and women to centenarians. The local flotilla is made up of both civilians and retired service members from all of the nation's military branches.
Active Duty Coast Guard personnel have a 20- to 30-year career," Miller said. "The Auxiliary only requires that you be at least 17 years old. Our flotilla had a member over 90 years old still going out on patrols. The general rule is to participate in at least one mission of interest as long as you are physically able to perform the mission."
Of the roughly 80 members of Flotilla 25-08, Johnson said that most are quite familiar faces.
"Many have been members for 15, 20, or even more years," Johnson said, "but we also have many that have been members for less than five years. I would guess that the average tenure is around 15 years."
Johnson has been a member for four years, and Miller for 15 years. They both encourage anyone interested — both civilian and military personnel alike — to seek out membership.
Johnson is a civilian and Miller is an Army retiree, having served 25 years in various assignments all over the world.
BOTH Johnson and Miller are boat and sailing enthusiasts, and agree that the Auxiliary is a great way to combine their passion with serving the community.
"By accident, I learned about the Auxiliary a few years ago," Johnson said. "I remain a member for two reasons: First, the Auxiliary is a great way to way to learn more about boating. I have taken several college-level courses for free through the Auxiliary — some taught by Auxiliarists, and some taught by active duty personnel. Second, the Auxiliary is a great way to serve my community. Among other areas, I have chosen to serve through volunteer teaching, including our monthly 'About Boating Safely' course and by volunteer conducting on-the-water patrols in the Potomac River and the Chesapeake Bay."
Miller said he joined in the first place to do something useful with his time, and also to volunteer for the Coast Guard, to which he said he feels indebted to in some ways.
"I wanted to do something useful, connected to boating, when I returned to Alexandria after living aboard my boat for 10 years," Miller said. "I always carried an EPIRB (emergency position indicating radio beacon) to use if my boat should be sinking. I expected to be rescued by the Coast Guard. Also, I owed the Coast Guard a debt of gratitude. In 1977, the Coast Guard had rescued 17 soldiers under my command from a nuclear power barge which got caught in a storm off Cape Hatteras and was in danger of sinking. Now that I have almost 15 years with the Auxiliary, I'm thinking that I should postpone my retirement until I reach age 84. That will pay back a year with the Auxiliary for each soldier saved by the Coast Guard."
He continues his involvement with Flotilla 25-08 for four specific reasons. "The more I think about why I joined the Auxiliary, I think about the four things that are the basis for service in the Auxiliary: helping to save lives, increasing my own boating skills, supporting the Coast Guard, and fun and fellowship — it's just good to be working with like-minded people," Miller said.
To learn more, visit http://wow.uscgaux.info/content.php?unit=054-25-08.