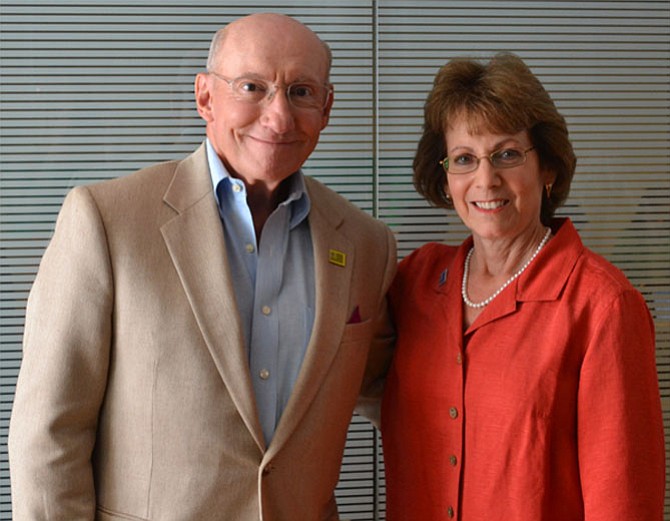 More than 10 million (1 in 6) seniors in the U.S. face the threat of hunger and more than 15 million (1 in 4) are living in isolation. This summer, Meals on Wheels America, in partnership with the Ad Council, will launch its first-ever national campaign to recruit volunteers to serve the nation's most vulnerable citizens. With the senior population projected to double by 2050, Senior Services of Alexandria is joining the effort to help inspire a new army of volunteers in Alexandria to meet the growing need.
"Meals on Wheels America is excited to launch the 'America Let's Do Lunch' Campaign in partnership with the Ad Council to encourage communities to volunteer for their local Meals on Wheels program," said Ellie Hollander, president and CEO of Meals on Wheels America. "As the senior population continues to grow, there will be an even greater need for the services that Meals on Wheels provides — and an even greater need for volunteers to help."
The national integrated public service campaign, created pro bono by the ad agency, Anomaly, will invite America to "Do Lunch" by volunteering to deliver meals and a smile to seniors. The TV, radio, print, out-of-home and digital public service advertisements (PSAs) will tell the poignant stories of just a few of the 2.4 million seniors the national Meals on Wheels network serves each year, stories that celebrate their lives and show how inspiring, wise and charming they really are.
Two of SSA's volunteers, Gerry Cooper and David Baker, had the opportunity to participate in the launch of the "America Let's Do Lunch" campaign by being interviewed about their experiences as Meals on Wheels volunteers. David Baker was featured in a morning spot on NBC Washington about his volunteering through Goodwin House Alexandria and as a member of SSA's board of directors. Gerry Cooper, SSA's chair-elect, teamed up with Meals on Wheels America's Ellie Hollander, talking about the Alexandria program and his volunteering through Old Presbyterian Meeting House with media outlets around the country. These interviews will air during the campaign.
"SSA was honored to be part of the roll out of the 'America Let's Do Lunch' National Campaign that will continue to bring awareness around senior hunger," said Mary Lee Anderson, SSA's executive director. We have a dedicated volunteer corps, but are always looking for additional volunteers to serve Alexandria seniors."
Many people know Meals on Wheels as a food delivery service for the homebound. However, what they don't know is how impactful the moments of contact between the volunteer and the recipient can be. For many seniors, the volunteer who drops off their meal is the only person they will see that day. The delivery isn't just about nourishment; it's about a valuable moment of human connection. And in turn, it's those moments of human connection that make volunteering so rewarding.
What can you do? You can experience these special moments of human connection right here in Alexandria by volunteering with Senior Services of Alexandria. We have opportunities for volunteers to help with our Meals on Wheels and Groceries to Go programs. Sign up to volunteer at www.seniorservicesalex.org or call 704-836-4414 and start making a difference right here in our local community today.