Addressing the July 14 Mount Vernon-Lee Chamber of Commerce Business Breakfast meeting, John T. Frey, Clerk of the Circuit Court, reviewed the duties and responsibilities of his office and answered questions.
Frey, a Republican, was reelected this past fall to his fourth eight-year term as Clerk of the Circuit Court. He supervises 165 employees who support the largest judicial circuit in Virginia.
He is the former president of the National Association of County Recorders, Election officials, and Clerks. In addition, he received an award for Public Official of the Year in 2006 for his commitment to excellence in local government.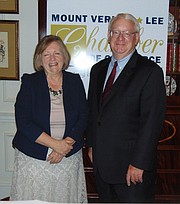 Frey grew up in Fairfax County and has served in office since 1992. He lives in West Springfield with his wife Sheila. He is the father of two children; Robert, and Stephanie. His Constitutionally required office is perhaps the least known in the county.
Prior to his speech he was asked why his office remains an elected position and not an administrative one appointed by the Chief Judge as in some other states. He responded by saying the office is required by the Virginia Constitution and furthermore there is no apparent movement to change the office to an appointed one. Secondly, he believes that because it is an elected position the Clerk's Office is typically more accountable and responsive to the needs of the people and not the Chief Judge such as in those states where the position is an appointed administrative one.
In his address to the chamber attendees Frey highlighted his duties as Clerk of the Circuit Court. Among them he discussed the following:
Efficiency in processing thousands of marriage licenses (6,200 annually),

Processing concealed gun permit applications (7,000 annually),

Digitizing and filing court records; electronic filing of land records,

Responses to requests to expunge personal records which affect pre-employment security clearances,

Compassionate and creative management of jury duty commitments while still adhering to the law requiring jury duty,

Management of 18,000 annual court cases.

Responsible for carrying out over 800 statutory mandates.
As an example of his office's continuing effort to improve its functions In 2013, Frey's online marriage license pre-application process was recognized by the Public Technology Institute as a "Significant Achievement" in the 2013-14 Technology Solution Awards. His innovation cut substantial time off the marriage application process which was previously completed manually.
Although he is a Republican, Frey likes to view his office as a bi-partisan one, continuously working toward efficiency and responsiveness to the changing needs of the public. In a rapidly growing county which he points out is increasingly Democratic party-dominated, he takes pride in his long record of election success, and attributes it to his dedication to good management, a bi-partisan approach to his courthouse job, and a reputation for coming up with creative solutions to problems.
Asked about the most rewarding part of his Clerk of the Circuit Court position, Frey said, "I very much enjoy the opportunity to help people with their problems and make the court system responsive to their needs."

The worst part? "I don't look forward to employee disciplining," he said. "The overwhelming number of my employees are loyal, conscientious, and effective. Those that are not and require discipline are few and far between but nevertheless make the job more difficult for me in order to fulfill my responsibilities to do a good job and get rid of those that do not meet our standards of ethical and administrative efficiency."
The Clerk of the Circuit Court is a position required by the Virginia State Constitution: Article VII, Section 4, and Article VI, Section 8.
'The Colonial Courthouse'
Built in 1799 the Colonial Courthouse now serves as a Courthouse Archives Center available to the public for scholarly research, for history buffs, and others wanting to know more about Colonial history and the ancient court records and land grant papers.
Two archivists which are part of the Circuit Court staff, serve as hosts for tours for the public free of charge every Friday, from 11 a.m. to 3 p.m. They are also available to the public by appointment from Monday to Thursday. They also serve as genealogy consultants for those interested in performing genealogy research.
One example of the type of historical documents on file at the Colonial Courthouse for the public to view is the Last Will and Testament of General George Washington and the Will of Martha Washington. Clerk of the Circuit Court John Frey distributed copies of these historic documents to the attendees as a personal keepsake. The Colonial Courthouse is located at the corner of Route 123 and Route 236 in Fairfax.