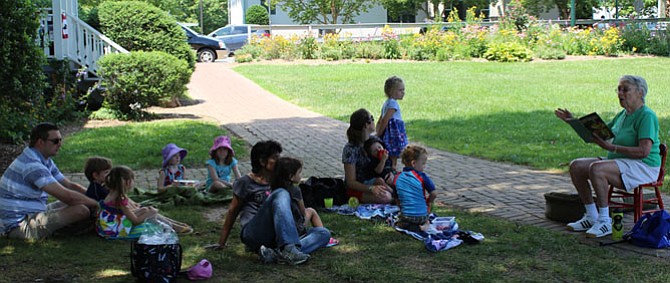 See more Summer Stories & Sprinklers photos on Facebook.
Children, parents, grandparents and nannies gathered beneath a large oak tree on Wednesday, July 20 to enjoy Vienna's Summer Stories & Sprinklers. Held weekly on Vienna's Town Green, it provides easy and relaxing entertainment. A story is read, followed by music to sing and dance to before the children don bathing suits to play in the sprinklers.
Kathy Tugendhat has been a volunteer with Historic Vienna for "at least 8 years" as she recalls. For the weekly event Tugendhat reads books she picks from The Little Library in historic Vienna. The library, on the Town Green, is the original library in Vienna. Consequently, the books Tugendhat picks are often older, less known but still enjoyable children's stories.
"She picks fantastic books," said Renee Stegman, who brought her three children ages 4, 3 and 1 for their second time. Stegman, a resident of Oakton, prefers this setting, "It's a small group, so they can actually see the story and I'm more relaxed. I don't worry that the kids will get lost in the crowd."
"Stop That Ball!" by Mike McClintock was the story Tugendhat picked for that day. It was published in 1959 but the story and Tugendhat's enthusiastic reading kept the children's attention. Afterwards Tugendhat takes out her guitar. She lived in Venezuela for 45 years, starting a school. She did music and dance with them, she explains. "I love the singing, and reading a lot," she says, "I just love kids."
Tugendhat sings the classics, the ones all the kids know: The Itsy Bitsy Spider; Head, Shoulders, Knees and Toes; and The Hokey Pokey. Some of the kids watch as Tugendhat strums her guitar, some sing too or bop along to the music. By the time The Hokey Pokey comes along most of the kids are comfortable enough to get up and follow the group in dance.
When the dancing is done the sprinklers are already set up. Tugendhat packs up her stuff as the kids dash off to the water. Ages 1-7 play side by side, jumping in, out and through the water.
Myrna Smith has lived in Vienna for 30 years and started bringing Rebecca, her 3-year-old granddaughter, to the Stories & Sprinklers program last year during Rebecca's summer visit. They find the casual atmosphere appealing. The variety of stories, sitting down, relaxing, then participation and music, Smith explains. Rebecca also knows that the fun culminates with playing in the water afterwards.
The weekly event occurs Wednesdays at 1 p.m. through July 27. The anticipated Aug. 3 culmination had to be changed due to conflicts, according to Sylvia Taylor, Secretary of Historic Vienna, Inc.