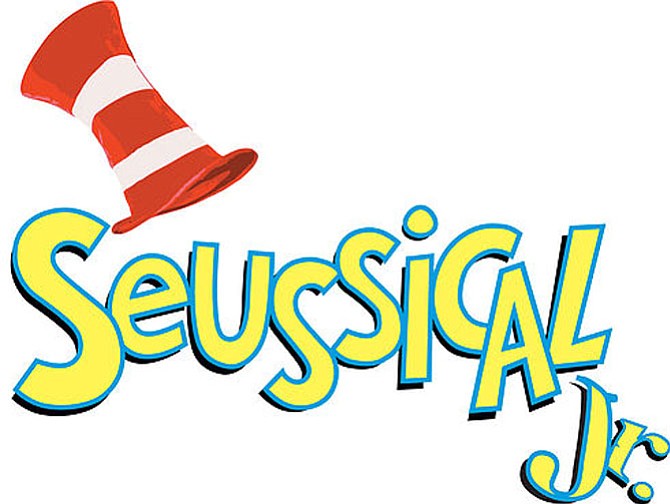 "I'll just have to save him because after all, a person's a person, no matter how small," says Horton, the Elephant in "Seussical, Jr." It's a key message to every young person who sees this show — as well as to the young actresses and actors who are presenting this show to their audience.
"Seussical Jr." will be presented by Bravo Productions, Theatre for Young Artists on Saturday, June 11 at 4 p.m. and 7:30 p.m. and Sunday, June 12 at 1 and 4 p.m. at the Randolph Road Theater, 4010 Randolph Road, Silver Spring. This production based on the Dr. Seuss books is adapted for youth performers and young audiences. I
Through the vision of Director Valerie Issembert, Choreographer Laurie Newton and Music Director Michele Vicino, the cast of 26 second to eighth graders is at Horton's side throughout, either onstage or as audience members (and learning to transition between the two realities) as he faces ridicule, danger and a trial. Gertrude McFuzz never loses faith in him and ultimately the "little people" of Whoville triumph alongside those who inhabit the Jungle of Nool.
Continuing its tradition of productions especially suited for children, Bravo will begin rehearsals for "Annie Kids" (grades 1 - 6) and "Legally Blonde Jr". (grades 5 – 10) in the fall.
Eleven-year old Madison Sherman plays Mazyie, the bird. "I enjoy taking a risk being Mayzie and just acting wild and crazy and having a blast. Mazyie is this fun, sassy, drama queen kind of girl and it's really fun to play her character. I enjoy the entire acting experience, particularly "having a blast with the cast during musicals," Madison said.
"Many schools at every grade level are mounting the fantastic musical extravaganza of the favorite Dr. Seuss characters," said Issembert. "Distinctive about Bravo's rendition is a return to the notion that musical theatre is fundamentally about storytelling and the Cat in the Hat (Luke LaMotta) as the narrator weaves this tale as a 'play within a play,'" where Horton the Elephant (Matthew Milam), Gertrude McFuzz (Cynthia Jacobson), Mayzie La Bird (Madison Sherman) the Sour Kangaroo (Josie Stein) of the Jungle of Nool interact with the citizens of Whoville, led by Mr. and Mrs. Mayor (Mimi Lemar/Will Sexter or Ava Klugerman/Jayden Armour) and their young son Jojo (Lexi Blank). Horton, in discovering a speck of dust containing the tiny people called the Whos, also learns the powers of friendship, loyalty, family and community.
Luke LaMotta enjoys playing the Cat in the Hat. The fifth-grade Bullis student said, "The Cat in the Hat is a very energetic and free-spirited character — a lot like me. I think it's so cool how he narrates the whole story and connects everything together. My favorite part is that he has multiple personalities and is very funny." Luke loves to sing and dance – and participate in the BRAVO musicals.
Eleven-year-old Lexi Blank is playing the role of Jojo. "Jojo is such a fun role to play," she said. "I particularly like how Jojo is so imaginative and creative. When I am playing Jojo I feel like I am on an adventure — traveling to the different "thinks" Jojo creates." Lexi loves to sing and dance on stage.
The role of Gertrude McFuzz is played by Westland Middle School sixth grader, Cynthia Jacobson. "Gertrude McFuzz is a character who has many layers. She has a shy and dorky personality, but as the play goes on, the audience begins to see a resilient, strong character," she said. "I really enjoy bringing out these layers in the show." Cynthia loves the challenges of auditioning and creating her characters in her own way.
Bravo Productions is a musical theatre program designed for children in grades 1-12. The program focuses on teaching the art of musical theatre – as well as imparting a love for this art form. "We make sure that the children are having a blast while they learn to work together as a cohesive and supportive cast. While they are learning the tools of the craft — music, lyrics, choreography, staging and blocking — they are also becoming the next generation who will keep the Broadway tradition alive, if not onstage, then as well-versed audience members," Executive Producer Laurie Levy Issembert said.
Tickets for Seussical, Jr are available online at https://www.showtix4u.com/index.php?submit=Search+for+Events&current_client=0531001402191839 for $19 until June 11 and at the door for $22 (cash or check only). No late seating.