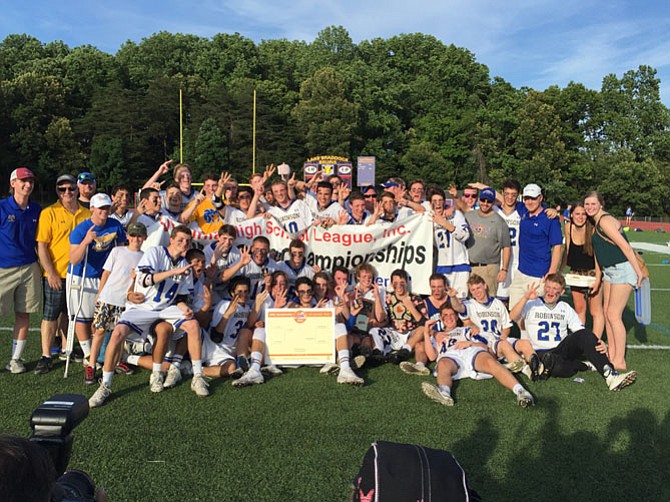 When asked about the feeling of winning a third consecutive state championship, Robinson senior attacker Johnny Daniel had one word to describe it.
"Satisfying," replied Daniel. "That's the one word I'd give it."
Indeed it was satisfying as the Rams' were able to dominate this year's state championship, as opposed to last year's double overtime victory, with a 14-2 win over James River at Lake Braddock Secondary School Saturday evening.
"It feels great," said Robinson head coach Matt Curran. "The last two years we won it, but it was different, with last year being in double overtime. But it's the state championship, so it still feels great."
THE RAMS were able to jump out early as sophomore Reid Scarborough scored through a mob of three defenders to give them the 1-0 lead.
After that, Robinson added goals by Scarborough, Austin Henry, Nick Dillon and Nick Rowlett, giving the Rams a commanding 5-0 lead.
"We knew going in with their short sticks that myself and Holden [Patterson] were going to have good matchups," said Scarborough. "We knew if we took our guys and beat them off the first dot we were going to have great opportunities to score."
"When we got up early like that it's definitely relieving," said Robinson goalkeeper Matthew Bethard. "But we saw last week in our Woodson game us come back from being down seven, so you never know and that's why you always have to stay sharp like we did."
Bethard and the rest of the defense were huge in this one. After the goal that cut the Robinson lead to 6-2, the Rams did not allow the Rapids to score again the rest of the contest.
"They were huge," said coach Curran. "Our defense played extremely well, and our offense was very patient which also kept the ball out of their offense's hands. But we knew exactly what we wanted to do to these guys and thankfully that worked for us."
Scarborough scored again, giving him the first half hat trick, then another goal by Henry and a goal by Declan Connolly with just nine seconds left in the half gave the Rams' an 8-2 at halftime.
To start the second half, another goal by Scarborough, his fourth, gave the Rams a 9-2 lead. Then, Scarborough would assist on a Patterson goal and Daniel found one of his shots in the back of the net and Robinson had control.
WINNING a single state championship is an accomplishment, but winning three in a row and creating a dynasty is pretty interesting, according to coach Curran.
"It's an amazing year seeing as how we graduated 19 seniors last year ­­­ one of which was an Under Armour All-American ­­­ a bunch of guys on defense, and two of our leading scorers," said Curran. "So these guys not only worked really hard, but they stepped up—a lot of young guys, freshmen, sophomores—and they really stepped up and kind of made it their team."
As for the Rams' shot at a fourth state title, chances look good as they only graduate 10 seniors compared to last year's 19.
"My freshman year, we lost in the regional playoffs and I saw my senior teammates crying," said Daniel. "So me and Austin [Henry], as the only two freshmen on varsity, made a pact that we'd never let that happen again. So being here right now, it feels really good to have been able to follow through with that promise."