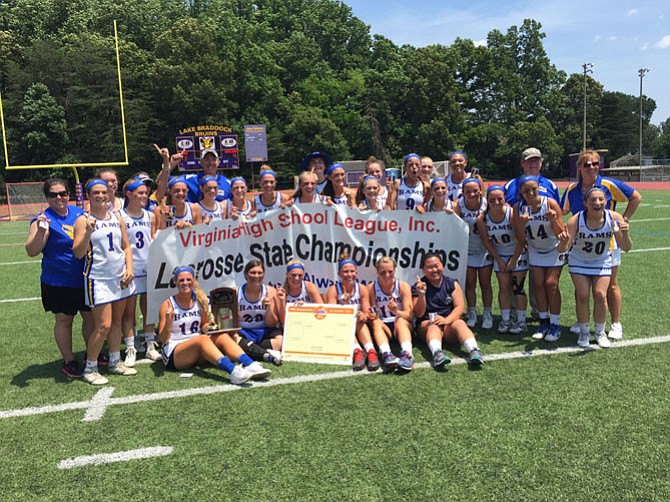 Elli Kluegel came off a screen set by teammate Katie Checkosky, and before Kluegel even took the pass from Grace Tompkins, head coach Liz Case was fist pumping on the sideline screaming, "Yes!"
Coach Case knew her team had run the perfect play, which went into the Rams finishing off the perfect season.
Robinson defeated Woodson 13-9 and brought home its second consecutive state championship Saturday afternoon at Lake Braddock Secondary school.
"They play with such heart and they're so close to one another," said Case after the game. "This feels good. The girls have worked really hard this year, and they continued to work hard throughout this game."
Early on, the story was Robinson senior goalkeeper Danielle Valenti, who stopped numerous Cavalier shots, which led to the Rams' first goal by Haley Prosser just four minutes in.
Normally, Case switches her goalkeepers at halftime, inserting Maddie Malone, but that wasn't the case Saturday as Valenti played so well the first half, she got the nod for the second half, as well.
"Danny had a really great first half," said Case. "It was a decision that was made up on the spot, we hadn't thought about it at all prior to this game."
The next goal in the contest came eight minutes later, when Rams captain Taylor Caskey scored back-to-back goals to give Robinson a 3-0 lead.
"I think we were even more pumped this year, this game, than last year," said Caskey. "We knew people were gunning for us, but I couldn't imagine winning states with anyone else."
Woodson would respond, however, as goals by Grace Stephan, Emma Vinall, and Meredith Mackay would tie the game 3-3. From there, the Rams would take over, by scoring five unanswered goals to close the half.
THE KEY TO THE RUN was a switch in the faceoff circle, as Case moved senior Emily Skrzypczak to start taking the draws, and that started gaining momentum for the Rams.
"[Woodson] was really good at taking the draws," said Case. "Once we moved Emily up, she started winning it, so she did a really good job for us."
Robinson got two goals from Checkosky during that stretch before halftime and she finished the game with five.
"I think the halftime lead was the most important part of the game," said Checkosky. "It gave us a lot of momentum. Getting that five-goal cushion was really important for us, mentally."
"I wouldn't have wanted this season to end any other way," said Checkosky. "I think the bond we all have with each other is amazing. We're a family and we love each other so much so this feels incredible."
Valenti would finish the game with nine saves, capping off a great effort from her.
ROBINSON could have a shot at another title next year, as only five seniors are graduating from the team.
"We have a nice young team, along with a lot of strong juniors," said Case, "and I think they'll be able to carry the team next year, as well."
Robinson finished their perfect season with a 21-0 record, winning their conference, region, and state tournament titles.
"It really is an incredible feeling," said Checkosky. "I've been playing with some of these girls since fifth grade, so winning these two state championships with all our hard work—it's the best feeling in the world."