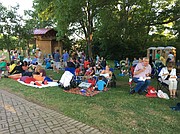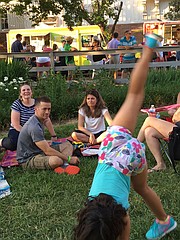 The first ever Friday evening Town of Vienna block party, taking over historic Church Street and the Town Green, kicked off on June 17 with a live classic rock band, food vendors, and activities for kids. At any time during the three-hour Chillin' on Church mini-fest, running from 6:30 to 9:30 p.m., more than a thousand people picnicked, drank beer, sat on blankets and chairs listening to music, and socialized with neighbors and friends.
Friday's Chillin on Church may have been the first, but, it will not be the last, Department of Parks and Recreation director Leslie Herman said. A second block party is planned for the end of summer. Herman said her department was hoping for about 500 people; the number there delighted town staff.
"Food trucks are the big rage now," said Herman, "and we knew people expect them. Next time, we will see about getting more here."
The Bahama Rockits really did rock it … the band played hits from the Beatles to Buffet to '60s and '70s hits. Food trucks sold waffles, stone-oven pizza, and desserts. While Sons of the American Legion, Squadron 180 served up barbecue, hot dogs and soft drinks. American Legion Post 180 sold beer.
Parks and Rec's teen council ran the kids' activities, old-fashioned games that youngsters know little about nowadays. Although Chillin' on Church was Herman's idea – she brought the concept from the city of Fairfax where she planned parks and rec events – Herman credits colleague Brandy Wyatt with pulling it all together.
Freeman Store, adjacent to the Church Street stage, stayed open throughout the evening.
Looking out over the expanse of families, teens, and seniors, Town Council member Howard Springsteen said, "It's a smashing success."