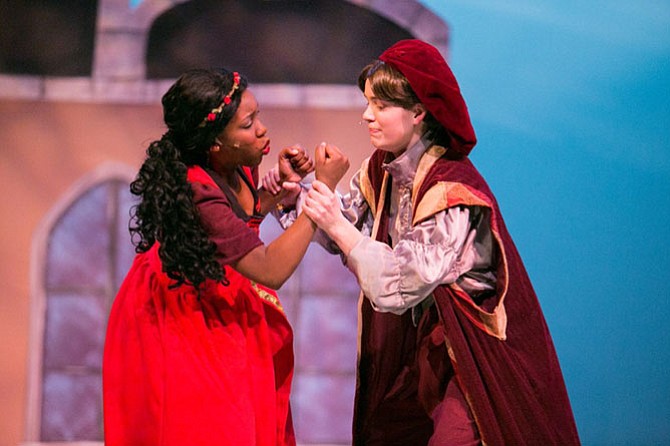 Taking the themes of Shakespeare and putting them into an upbeat, lively show, the Madeira School's performance of "Kiss Me Kate" was truly "Wunderbar!"
"Kiss Me Kate" was written by Samuel and Bella Spewack in 1948, with music by Cole Porter. This play-within-a-play follows the on and offstage drama of a musical production of Shakespeare's "The Taming of the Shrew." This particular production sets the show in the 1980s. Fred Graham stars as Petruchio alongside his ex-wife, Lilli Vanessi, who plays Katherine. Lois Lane and her gambling beau, Bill, play Bianca and Lucentio. Unfortunately, Bill's bad gambling habit causes a couple of gangsters to come into the scene. Chaos ensues.
With great humor, songs and dance numbers, this show was very entertaining. Everyone, even many in the ensemble, had a great energy. There is some Shakespearian language in the show, but most actors were able to portray the meaning through body language and facial expression. The first number started out a bit rough, but after that, the show found its rhythm.
Emily Barré was particularly impressive as Fred. Her performance was energetic and she owned the egotistical character while tackling a traditionally baritone role. Faith Slaughter was equally as captivating as Lili with a melodious singing voice and incredible ability to distinguish between her two characters, Lilli and Katherine, even though they're quite similar.
The group numbers were a joy to watch, particularly "Too Darn Hot," which featured Nicole Schwartz as Paul, along with the other actors and stagehands of Shrew. Schwartz's masculine mannerisms and voice made the scene very fun and upbeat. Although the ensemble was difficult to hear at some points, the dancing was excellent and lively. One of the more comedic elements of the show were the two mobsters, played by Mary Kate Gould and Kerstin Shimkin. Their wit was quick paced and their quips were well-timed.
As for the technical aspects of the show, everything was done well. While not entirely consistent, the scene changes were fairly smooth, especially with the use of a fly system. The costumes for the Padua scenes were beautiful and vibrant. The set was quite impressive. It was well built and the painting was bright and detailed.
The Madeira School did a superb job with "Kiss Me Kate." You'd be "So In Love" with this show!