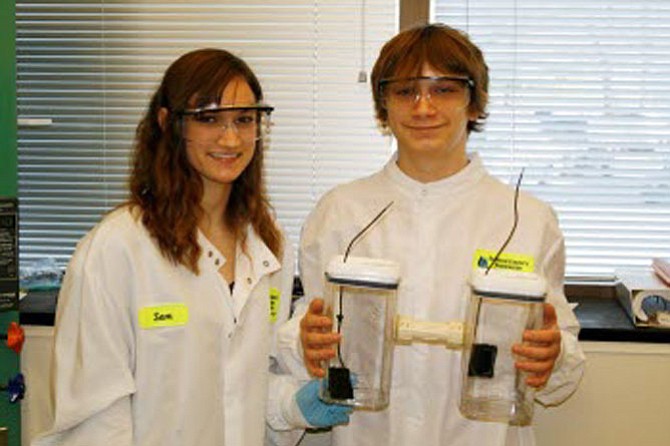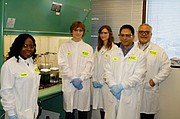 What if energy could be generated during the treatment of wastewater so that clean, renewable energy could be captured and used to dramatically reduce costs? This is the basic idea behind a winning science fair project that has earned a pair of Chantilly High School students a trip to the Fairfax County Regional Science and Engineering Fair.
Working in the laboratory at Fairfax County's Noman M. Cole Jr., Pollution Control Plant, juniors Joey Clement and Chloe Ramich conducted a month of tests on a homemade microbial fuel cell, an organic battery in which electrochemically active bacteria generate a tiny amount of power as they digest sewage.
Clement and Ramich are former Sewer Science participants, a hands-on laboratory program in which high school students learn about municipal wastewater treatment from Fairfax County Wastewater Management employees.
The Sewer Science program stimulated their interest in wastewater treatment and led them to compete in the science fair the past three years. They earned first place honors at last year's regional fair for their entry "Effect of Bacteria Type on Electrical Output." As a freshman Clement read an article about how scientists were using bacteria to generate power in bioreactors.
Chantilly High School Science Department Chair Karen Malloy says the school has sponsored a science fair for more than 30 years. Approximately 500 students participated in the fair last month, which is governed by the Intel International Science and Engineering Fair, an international pre-college science competition.
To reach the International Fair, students must first advance past regionals and state.
In the past five years, Chantilly High School has had a dozen grand prize nominees and six grand prize winners that were awarded the option to compete at the International Fair. Malloy said she is looking forward to a good showing by Clement and Ramich at this year's regional fair, March 11-13 at Robinson Secondary School.
Clement credits Malloy for suggesting he contact the wastewater treatment plant about using their lab.
This year's project built upon the research the team conducted for their previous fair entries. Based on the fact that electrochemically active bacteria (EAB) and non-EAB found in wastewater sludge can work together to generate power, the team looked at the effect of a mediator on the power output of a mixed-culture fuel cell. Clement found instructions online on how to construct a microbial fuel cell. He built the fuel cells with components available in hardware and kitchen supply stores. The lab provided the dirty water — small amounts of returning activated sludge (oxygenated biological matter) and primary effluent (wastewater after heavy solids have settled out and oil, grease, and lighter solids are skimmed off).
One thing the students discovered was that as they increased their mediator, Methylene blue, the power output increased; however, then the chemical became toxic to the bacteria.
Juan Reyes is the environmental monitoring and pretreatment branch chief for Fairfax County's wastewater program. He oversaw the students' project, which he described as timely and forward thinking.
Reyes' experience includes leading the federal government's environmental and public health responses to natural disasters and responding to industrial accidents in Europe and Asia. He provided some statistics to illustrate what he calls the energy-water nexus, or the relationship between how much water is used to generate and transmit energy and how much energy it takes to collect, clean, move, store, and dispose of water.
The U.S. Department of Energy says energy use can account for as much as 10 percent of a local government's annual operating budget. With pumps, motors, and other equipment operating around the clock, wastewater facilities are among the largest consumers of energy in a community.
According to the River Network, electricity consumption by the water and wastewater sectors is projected to rise 33 percent in the next 20 years.
The Water Environment Research Foundation says the energy potential contained in wastewater (biosolids and biogasses) is more than 10 times the energy used to treat it, and that collectively, wastewater treatment plants could potentially meet 10 percent of the nation's electricity demand.