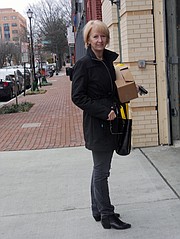 Julie Reynes walks down the ramp and pushes the buzzer at the side door of Harris Teeter on N. Saint Asaph Street. She checks in with Ashley Bigelow, the store's receiver, who verifies that the quantity of dates matches the invoice. Reynes pushes through a door that brings her out in the back side of the long glass deli case.
She speaks briefly with Luis Rivera, the Fresh Foods manager about the current supply of her packages of dates. "Oh." she says, "easy to spot."
They have been featured on the top shelf under an entertainment display in the cheese section. Reynes says that Luis has taught her a lot about the grocery business. Rivera points to the orange-labeled box of Simply Stuffed Dates. "Right now the pecan-stuffed dates are selling the best but it is seasonal." In the spring when the store features lemons, he thinks it may be the Almond Lemon. Reynes says this is her favorite.
Reynes says she currently produces boxes of four varieties of plump stuffed medjool dates that she gets shipped from California. Reynes used to work out of a kitchen in Alexandria but now uses a D.C. kitchen where she employs workers eight hours a day slicing open dates and filling them by hand with Pistachio Orange, Almond Lemon, Pecan Maple or Hazelnut Chocolate which is the most popular. She describes it as "the most decadent of our dates. We sell 2,000 boxes a month of all the dates combined." She says that the recipes came from playing around with different ingredients. The current selections have a shelf life of three months unrefrigerated.
When she started Julie's Datery business two years ago in the Alexandria Farmer's Market, she was ordering 32 two-pound boxes of dates from Costco. Now she gets a palette of 120 boxes of 15 pound cases of dates. Reynes says this is her third career after working in IT for over 15 years and holding leadership positions in several non-profits. "I always wanted to start a business; I wanted something unique." For a while she looked into modification of homes for elderly so they could age in place.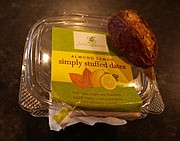 Then several things came together including a visit to Saudi Arabia. She was taken to what she thought was a coffee shop but turned out to be a store with dates of all kinds. "I fell in love and brought a lot back with me." By happenstance a friend served her gorgonzola stuffed dates for her birthday party. About this same time she dated a guy who had Latvian bread, and he taught her the process of how to set up a business.
Reynes reaches in the back of her car to pull out a carton of dates. She works out of her home, but her car serves as a makeshift mobile office since she routinely performs four demos every weekend that necessitate setting up a table with tablecloth, her "sell sheet" and extra dates in case they have run out at the store. In addition, she routinely checks groceries and shops for supply of her product, expiration dates, signage and location of the display. "As you can tell, I'm in my car a lot." Reynes said sales depend on where the dates are placed in the store. She has just stopped at the Whole Foods on Duke Street where the dates are in a "grab and go" section at the front of the store. Reynes thinks featuring them in the produce section of groceries could be a good display as well.
Currently she has dates in 17 Whole Foods stores, three Harris Teeters, six MOM's and some specialty stores such as Arrowine in Arlington, Society Fair on S. Washington Street and Glen's Garden Market at DuPont Circle in D.C. which is her biggest selling market in the D.C. metro area. Eventually she would like to get a distributor outside and expand beyond the Mid-Atlantic region. She also sells the dates on her website.
She says the hardest part is "the path to profitability." She balances a growing demand with viability. One of the challenges is financial because of the expense of her ingredients. The organic dates are the best and the nuts are good quality and "we don't have much in terms of filler." Reynes says she always loved cooking and thought she would end up in the restaurant industry but other opportunities took over and "it took me a while to get back to it." Is she having fun? She pauses and smiles, "Well, it depends on the day, but most of the time."