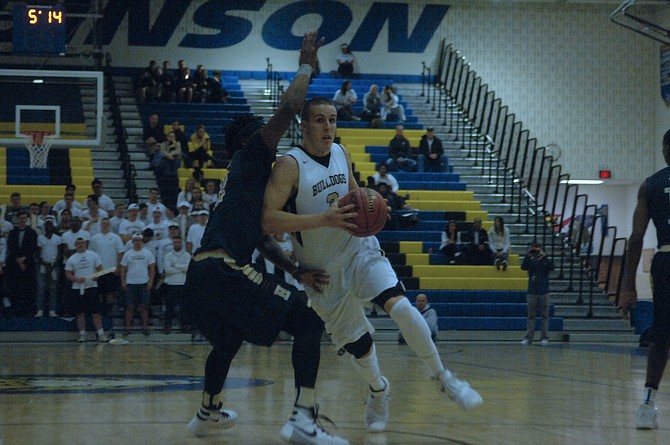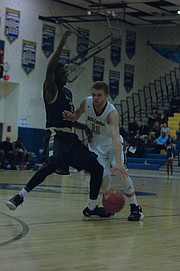 Tyler Scanlon said the Westfield boys' basketball team needed to do some soul searching after the Bulldogs lost to Battlefield in the 6A North region final on Feb. 27.
They must have found something useful.
Westfield led by at least eight points throughout the second half and defeated C.D. Hylton 67-49 in the state quarterfinals on Friday at Robinson Secondary School.
The Bulldogs advanced to the semifinals, where they will face 6A South champion Woodside at 9 p.m. on Tuesday at VCU.
Westfield entered the region final riding a 22-game win streak, but lost to Battlefield 77-72. After the game, Scanlon said the Bobcats were tougher, worked harder and rebounded better than the Bulldogs, who had won the region title and finished state runner-up the previous season.
Six days later, Westfield took care of business against Hylton and earned a return trip to the state final four.
"It was a brutal week," Scanlon said. "We watched film [from] that Battlefield game. Me and Coach [Doug] Ewell went at it for about 30 minutes [about] defense and schemes. That really helped us. … Battlefield destroyed us on the boards. It was hard to watch. You almost had to put your hands over your eyes. They just killed us on the boards. We had to learn from that. I think we did a better job of that tonight --- we can still improve.
"We focused on defense and boxing out this week, that's really all it was."
Ewell said the loss to Battlefield might have been beneficial for Westfield, forcing the Bulldogs to evaluate their shortcomings and make adjustments. Change, however, didn't come immediately.
"To be honest with you, on Monday I thought we were done," Ewell said. "If you would have asked me Monday or Tuesday, I thought our kids waived the white flag … so it was really good for us to grow throughout the week. If we had played on Tuesday or Wednesday, we would have been in a lot of trouble. But I think growing, communicating, maybe humbling yourself a little bit, was probably a really good thing for us. I'm really proud of the way they played.
"They played probably their best team game in a long time."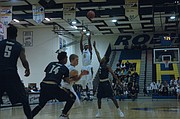 Senior guard Blake Francis led Westfield with 21 points and Scanlon finished with 15. Junior guard Kory Jones scored eight points.
While Scanlon and Francis have been Westfield's top offensive threats for the last two seasons, Hank Johnson has stepped up to help carry the load. The 6-foot-4 senior produced a double-double Friday, finishing with 20 points and 11 rebounds.
"Hank is playing amazing," Ewell said. "He's being really consistent. It's great to have a consistent third. He's a big, he can step out and shoot it, he can score at the rim, he makes free throws and so that's a huge plus."
Johnson scored nine points in the third quarter, including a 3-pointer that gave Westfield a 46-32 lead with 1:43 remaining.
"Monday was really a big day for us," Johnson said. "Coach Ewell kind of said be all in or just go home. We're still in this. Our goal is still ahead of us. We just kept working. We had a really good week of practice. Coach Ewell pushed us really hard and it showed tonight."
Next up for Westfield is a return to Richmond, where the Bulldogs lost to Colonial Forge, 47-46, in the state final last year. Westfield will take on a Woodside team that defeated West Potomac 67-57 in the quarterfinals on Friday.
"We want it all," Johnson said. "We're not going down there just to say we made it to VCU. We're going down to win it all and we're very intent on doing that."