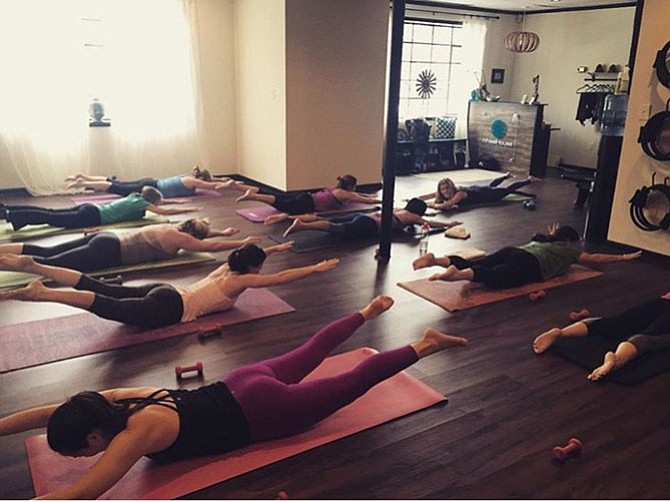 Michele Achterberg is a winner. When the Clifton resident was diagnosed with stage II breast cancer in 2015 despite having no family history with it, she underwent 20 weeks of chemotherapy and won. She went through a double mastectomy in June 2015, and won. With clean pathology after the surgery, she returned to work in September. Winning.
Another win Achterberg notched in her belt was being the first person to take 16 classes at WheelHouse Mind Body Studio, which opened on Chapel Road between the U.S. Post Office and (also female-owned) Cupcaked Bakery. She'd been a runner, but that all but disappeared from her life during chemo and then the surgery.
"I was really sick for that whole time," Achterberg said. "Yoga was just a way to get me back on track, into something that wasn't as hard on your body." WheelHouse specializes in yoga, pilates, barre and classes that blend elements from various workouts.
"I had done it in the past and enjoyed it," she continued. "As more of a mind-body thing, I thought it could help me not just with the physical, but recover mentally as well."
Achterberg signed up with WheelHouse owners and Clifton residents Alyson Pollard and Kelly Layfield within two weeks of their Oct. 2, 2015 grand opening.
With post-surgery sensitivity in her chest, Achterberg said she especially appreciated how Pollard and Layfield helped modify the practice for her, and helped her become much stronger.
WHEELHOUSE sits as a boutique studio serving the greater Clifton and Fairfax Station communities. It's the brain-love-passion-child of friends Pollard and Layfield, who decided to plunge forward with their own small business.
Pollard is certified as a personal trainer and has worked with special needs students in Fairfax County Public Schools. Layfield is a trainer as well, having taught in small pilates studios and Golds Gyms alike. She incorporated elements of pilates, yoga and barre (flexibility exercises incorporating a stationary bar) into her own class called INFIT.
The two women said it was difficult considering the drastic change starting a new business would have on their lives.
"I never thought I could do this," Layfield said. "I made excuses. It was too big. But when you're passionate about something, you love it, talk about it all the time, you're going to figure it out."
In the first five months, they've done a lot of figuring it out: tweaking their class lineup and schedule, adding three new instructors and making plans for out-of-studio classes at Clifton's Paradise Springs winery.
"Going from nothing, to this and finding balance, we found what works as business partners," said Pollard, who describes herself as the "dreamer" yin to Layfield's "more practical" yang.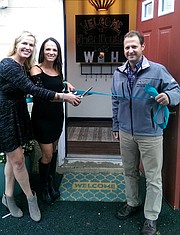 "Every day we live and breathe our business," Pollard said.
Clifton resident and recent George Mason University graduate Morgan Flournoy began teaching a yoga class with weights this past weekend at WheelHouse. She also teaches at Spark Yoga in Fairfax's Mosaic District. Her class incorporates squats, lunges and other moves to raise the heart rate and add variety to a week-long yoga schedule.
"Their studio is a great addition to the Clifton community," Flournoy said, "and I like that I'm part of the beginning stages as they expand."
In addition to the January contest, the ladies have been constantly looking for new ways to engage their community and offer different opportunities for fitness and wellness.
One program still in the planning stages is a series of classes targeted at teenage girls (Pollard and Layfield each have one, plus a pair of younger sons apiece). There would be yoga practice, but also a little life coaching.
"We want to bring positive energy for that age group," Layfield said. "We all tell our kids to go, go, go, they're so stressed out."
"They need permission to slow down and breathe for a moment," Pollard said.
They've also declared this month "Meditation March" and are leading "guided meditation" classes for as many as 25 people at a time.
"It's so important," Layfield said of meditating and making time for quiet reflection and controlled breathing, "especially in this area. To be more present, to breathe -- it seems so simple, but it really helps the rest of the day."
CLIFTON RESIDENT Bill Ference is one of the rare men (along with Layfield's husband Rick) who frequent a number of Wheelhouse's classes, including yoga and a hybrid called "Functional Flexibility."
Ference stays active at 65 years old with running, basketball and mountain biking, but he said he's finally starting to get stiff. "I'm not as flexible as I used to be," he said. "My wife has taken yoga for years. She knew the owners, so I thought I'd give it a try and go once a week."
Ference said he's enjoyed seeing Pollard, who he's known since she was a child in Clifton, pursue her passion in their community. But from a purely physical standpoint, he's already noticed a difference with his balance.
"Once I got down there, I've been sort of concentrating on that a little bit," he said. "One thing that goes is the balance."
Also beginning in January, Pollard and Layfield began a campaign to donate one dollar for each client, each class (including repeats) throughout the month to charity.
In January, they raised $311 for the group Band of Parents that funds new therapies for children with the childhood cancer neuroblastoma. Last month, $375 went to the Myocarditis Foundation. March's charity is the Hawn Foundation.
"We've been fortunate and blessed with how the community has embraced our passion," said Pollard. "It could've flopped."
"It's a very yoga thing to do," said Layfield. "One of the limbs of practice is to give to others."
Whether it's charity, fitness or stress-relief, the purpose of the studio comes back to simply being mindful of one's self and surroundings, getting permission to stop, breathe and reflect.
"In there, you're really practicing focusing on doing what you're doing," Achterberg said, "not all the other things life has going on. Especially as a working mom, with teenagers who are difficult by nature. It's good practice for while you're there, but also the rest of your life."
WheelHouse Clifton Mind Body Studio is located at 12644 Chapel Road, Suite C and D. For more information, visit www.wheelhousemindbodystudio.com or call 703-401-2627. More information about the WheelHouse March charity the Hawn Foundation is available online at http://thehawnfoundation.org.