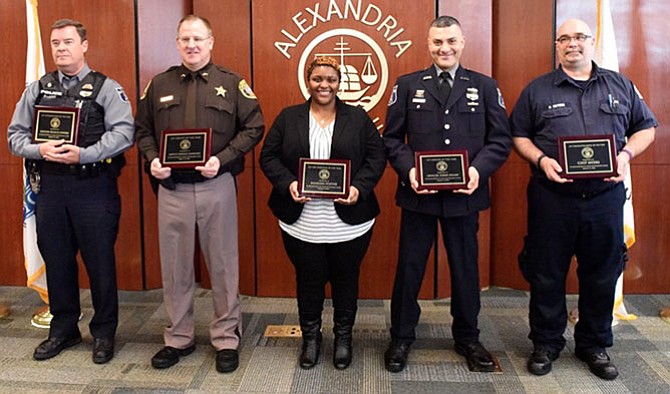 The Alexandria Crisis Intervention Team (CIT) honored five CIT members at its annual awards luncheon at police headquarters on Tuesday, March 15. Mayor Allison Silberberg joined City Manager Mark Jinks, Police Chief Earl Cook, Sheriff Dana Lawhorne, Fire Chief Robert Dubé, Emergency Communications Director Renee Gordon and Liz Wixson of the Department of Community and Human Services in recognizing the five public safety honorees as well as the accomplishments of the entire CIT program.
Officer Tarek Helmy was named "CIT Officer of the Year" for his assistance to a disruptive and disorderly woman, who began to trust him and eventually revealed her true name allowing the officer to confirm that her family had reported her missing. Helmy notified her family and then escorted her to the hospital for evaluation.

Deputy Darold Crawford was named "CIT Deputy of the Year" for his keen observations and quick interactions with an inmate in the Critical Care Mental Health Unit at the jail. When Crawford noted a change in the inmate's behavior, he monitored the inmate even more closely and was in a position to take immediate action when the inmate tried to harm himself.

Paramedic Chip Myers was named "CIT Medic of the Year" for using his CIT training and skills to more effectively assist patients he encounters. His CIT experience and his ability to engage in easy conversation puts many patients who are suffering a crisis at ease as he cares for them and transports them for further treatment.

Public Safety Communications Officer Kanesha Foster was named "CIT DEC Employee of the Year" for successfully engaging a suicidal caller armed with a gun. She patiently de-escalated the situation over the phone, encouraging the caller to put down the gun and then getting him to agree for EMS to transport him for evaluation.

Officer Frank Powers was honored for the "CIT Intervention of the Year" for diverting the case of a former U.S. Marine, suffering from PTSD and suspected of property destruction, away from the criminal justice system and into care. Thanks to Powers' efforts, the man received the necessary treatment from the Veterans Administration and avoided jail when neighbors agreed not to pursue criminal charges.
CIT was developed in collaboration with the DCHS, Police Department and Sheriff's Office to help improve staff interactions with persons with mental illness and substance use disorders. Since the program began in 2010, more than 400 first responders have completed CIT training.