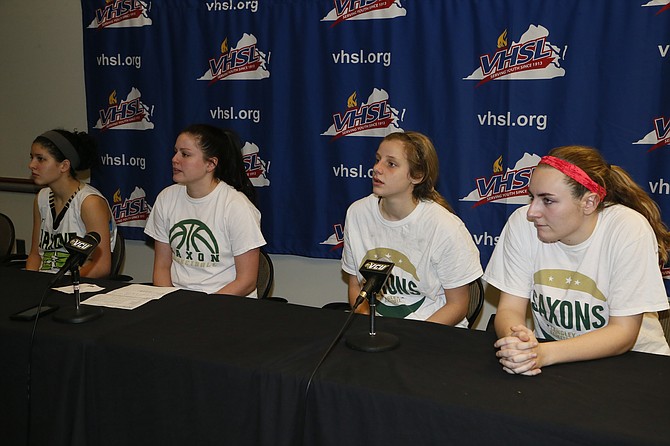 In the early days of her Langley coaching career, Amanda Baker hoped to lead the girls' basketball team to a .500 record.
After three losing seasons, the Saxons finished 21-5 during the 2014-15 campaign and the team's focus turned to competing for championships.
When Langley defeated Edison, one of the state's top 5A teams, during the second game of the 2015-16 season, Baker realized the Saxons could be something special.
"[T]hat's when," Baker said, "the vision got a little bit bigger."
Three months later, the Saxons were on the state's brightest stage with a chance to tie in the closing seconds against the two-time defending champion. While Langley would fall short of the ultimate prize, the Saxons received praise from their opponent following the conclusion of the best season in program history.
The Cosby Titans won their third consecutive state championship, beating Langley 42-37 in the 6A final on March 9 at VCU in Richmond.
Langley senior guard Lizzy Shamloo scored with 1:23 remaining, cutting the Saxon deficit to 40-37. Langley got the ball back with less than a minute remaining, but Cosby senior guard Jocelyn Jones came up with a steal and was fouled with 10 seconds on the clock. Jones, who will play for the University of North Carolina, made a pair of free throws and the Titans took home the title.
Jones finished with 18 points and 10 rebounds. Tyra Whitehead, a 6-foot-2 post who will play for Wake Forest, scored 12 points and grabbed 16 boards for the Titans.
While dealing with the Cosby duo was a difficult task, the Saxons didn't back down.
"They were relentless on defense, they rebounded well, they shot pretty well," Cosby head coach Rachel Mead said. "... They didn't back down. They're scrappy."
Langley trailed by nine points entering the fourth quarter but worked its way back. A Shamloo 3-pointer with 7:40 remaining cut the Cosby lead to six. A 3-pointer by Paige Galiani 30 seconds later cut the deficit to five.
Shamloo's bucket with 5:39 on the clock cut the Titan advantage to 39-35, and when Shamloo scored again with 1:23 remaining, it was down to a one-possession game.
"They're good players and they're talented, so I think we were a little bit intimidated," Shamloo said, "but we knew that we have a strong team and we've gotten this far. We've earned this spot that we're in. It's not like someone gave it to us."
Shamloo led Langley with 12 points, nine rebounds and three steals.
Galiani finished with 11 points, four rebounds, two blocks and knocked down a trio of 3-pointers. Junior guard Ari Aulisi scored nine points.
While Langley (26-6) lost in the state final, the scrappy Saxons put together a season to remember.
Langley won the program's first conference/district championship since 1988, beating previously undefeated Fairfax in the Conference 6 tournament final. The Saxons qualified for the state tournament for the first time in program history with a win over perennial power West Springfield in the region quarterfinals. After a three-point loss to then-unbeaten Oakton in the region semifinals, Langley defeated Herndon in the third-place game.
In their first-ever state tournament game, the Saxons went on the road and defeated Landstown in the quarterfinals at ODU. Langley got another shot at Oakton in the semifinals and the Saxons held the Cougars to a season-low point total and handed them their only loss of the season, 47-38, on March 8 at VCU.
"I think we started the game the best way we possibly could have started --- extremely aggressive, looking to score, getting them on their heels early," Baker said after Langley beat Oakton, "and then we just kept it going the entire game."
The Cougars, led by 6-foot-1 forward Maddie Royle, 6-foot forward Delaney Connolly and point guard Alex Marquis, entered the contest averaging 61 points per game, but managed just 18 through the first three quarters.
Connolly recorded a double-double, finishing with 12 points and 12 rebounds. Royle scored four points on 1-for-7 shooting.
"We put a lot of prep into making sure we could defend them properly, especially [since] they have a really good high-low game, and we went through a lot of drills making sure we could get that right," Langley senior Stephanie Sipple said about defending Oakton's 6-foot standouts. "It just took a lot of hard work in getting around them because they're very skilled players and they really know how to get a body up against you. It was amazing what we could do as along as we were talking."
Marquis finished with eight points on 3-for-12 shooting. Junior guard Kailyn Fee scored 10 points on 3-for-10 shooting for the Cougars.
"I thought [Langley] played an excellent game," Oakton head coach Fred Priester said. "They were able to stick to their game plan very, very well and cause us some difficulties, so they definitely deserved to win the game. We just got out-played today. We felt like we were in pretty good shape coming in. It's tough to go undefeated all year. It's just a lot of pressure."
Jordyn Callaghan led Langley with 14 points against Oakton. The sophomore point guard made 12 of 13 free-throw attempts. Shamloo finished with eight points and seven rebounds, Galiani scored eight points and Sipple finished with six points and 10 rebounds.
Langley led by as many as 16 points, when an Aulisi 3-pointer with 5:18 remaining in the fourth quarter gave the Saxons a 34-18 advantage.
"They control the tempo in such a way [that] when we fell behind it was very, very difficult to come [back]," Priester said. "When we played them last time, we never fell behind."
Langley didn't score many points this season ­­­ the Saxons averaged 46.3 per contest ­­­ but its opponents scored even fewer. Langley limited teams to 36.8 points per game and held opponents to less than 40 points in 21 of 32 contests. The Saxons allowed 50 or more points only twice and no opponent scored 60 points in a game.
Did the Saxons have to be sold on playing this brand of basketball?
"I definitely think the pride on defense is what has gotten us this far," Galiani said after the semifinal win over Oakton. "We realized it was working, we didn't have to be sold, that was it."
Langley will graduate six seniors, including starters Galiani, Shamloo and Sipple. Galiani was the Saxons' top offensive threat and became the program's all-time leading scorer during her senior season.
Starters Callaghan and Aulisi figure to be Langley's top returners for the 2016-17 season.
"We got some great experience," Baker said. "We do have returning players from that starting five that now know what it takes to get this far and we had a bench full of juniors who have been putting in a really hard season going against [the starters] every day. I think they understand the work ethic it takes and then what kind of competition we're going to be facing down the line."