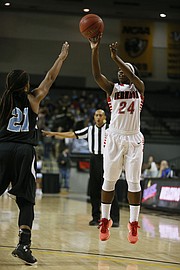 The Herndon girls' basketball team's first trip to the state tournament started with an upset victory over 6A South champion Woodside and ended with a lesson in competing with the best.
The Hornets lost to the Cosby Titans 64-33 in the state semifinals on March 8 at VCU. The following night, Cosby defeated Langley in the championship game and took home its third consecutive title.
Herndon trailed 17-14 early in the second quarter and 30­20 at halftime, but Cosby outscored the Hornets 17­4 in the third quarter and pulled away.
Despite the lopsided loss, Herndon accomplished much during the 2015-16 season.
THE HORNETS finished with a 21-8 record two years after winning just three games during the 2013-14 campaign. Herndon started the year 10-0 and went on to finish runner-up in Conference 5, losing to Oakton in the tournament final. The Hornets earned the program's first state berth with a win over Battlefield in the region quarterfinals and Herndon beat Woodside in the state quarterfinals.
"It's been a remarkable year going from three wins three years ago to nine to 21," Snead said. "... I couldn't be any prouder of these young ladies."
Snead said he had lofty goals when he was hired as the Herndon girls' basketball coach prior to the 2013-14 season.
"When I interviewed I ... said, 'Within three to five years, I want to win a district championship and get to the state tournament,'" Snead said, "so right now we're on schedule."
Things didn't start smoothly for Snead, who started a freshman and four sophomores in his first season with an eye on the future. The result was a three-win season.
"That first year," he said, "I knew we were going to get it handed to us."
The freshman who started on that team was guard Indeya Sanders, who reached 1,000 career points as a junior this year.
"Past years, I never really had the confidence that we would get this far," Sanders said, "but knowing that we had built such a stable program ... and [adding] the two transfers, [junior] Janiece [Loney] and [senior] Shawnice [Gresham], I just knew that those were the building blocks that we needed for championships ..."
SANDERS LED HERNDON with seven points in the state semifinals against Cosby. Sophomore guard Devyne Newman, senior forward Sabrina Tolbert and sophomore guard Marlise Brunson each scored six for the Hornets.
Herndon will lose starters Gresham and Tolbert to graduation, but figure to return key guards Sanders, Loney and Newman.
Snead said he told the Hornets, "You got here, so you have a taste of it. Now when you come here next year, you'll want to go ahead and finish the job."