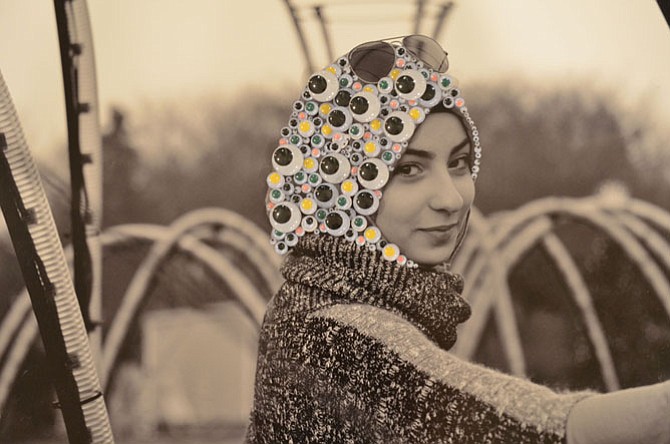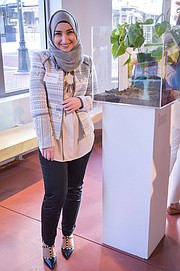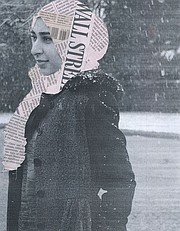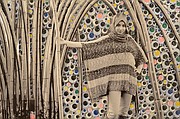 Razan Elbaba, 17, a senior at Oakton High School in Vienna, won the Gold Medal Portfolio and a $10,000 scholarship in the 2016 Scholastic Art and Writing Awards presented by the Alliance for Young Artists and Writers in New York. She is among 16 high school seniors across the nation to receive the Gold Medal Portfolio, and joins alumni Andy Warhol, Stephen King, Lena Dunham and Ken Burns, among other celebrity artists. A record-breaking 320,000 works of art and writing were submitted for adjudication at the regional level in the awards' 29 categories, which includes poetry, photography, sculpture, humor, editorial cartoons, video game design and more.

"It's an incredible feeling. It was very unexpected," said Razan, a Lebanese-American Muslim and a photographer. "I hope to serve as an inspiration for other female artists in the county because I am the first female in the county to receive this award."
Razan will be honored at Carnegie Hall in New York City on June 2 at the national ceremony, with appearances by Ken Burns, award-winning filmmaker and documentarian. Her photography will be on display at the Sheila C. Johnson Design Center at Parsons School of Design at The New School and Pratt Institute's Pratt Manhattan Gallery from June 2-12. Her work was judged based on three criteria: originality, technical skill and emergence of personal vision or voice.
Razan specializes in mixed media, a type of visual art that combines photography and fine arts and anything you want in one piece. Using mixed media, her work is not limited to raw photos; she cuts, pastes, and glues stuff on top -- even adding googly eyes or glitter or newspaper print onto mirrors.
"I like to specialize in mixed media because it's a different approach on social issues," she said. "I've always been passionate about social justice and overcoming racial barriers. Breaking stereotypes is my dream."
"I've always been passionate about social justice and overcoming racial barriers. Breaking stereotypes is my dream."

--Oakton High Senior Razan Elbaba
HER MAIN FOCUS is photographing women wearing the hijab. "My goal is to share the stories of different women in hijab in the 21st century in America." In the future, she hopes to travel around the country and photograph a bigger population of women; for now, she's doing so locally.
She added: "As a person who wears a hijab, a headdress, for five years now, I feel like it's my job to break stereotypes and get the message across that we're here to spark positive change on earth."
A victim of racial discrimination herself, she added: "I've been racially discriminated before and that's what keeps me going... It's my goal to stop any hurtful communication between peers and students and the business world and corporate world."
She added: "There are many portrait photographers in the world. I'm trying to exceed that; to go above and beyond what's been done in the art world. Racial discrimination and social justice are topics that are very hard to hit. I'm trying to take a different approach artistically."
As a child at the age of 3, she developed a severe stutter, and said it was difficult to communicate her feelings and emotions. "So as I reached high school, I wanted to find a form of expression that was easier for me, so I took a photography class and I fell in love. I love being behind the camera, and it helped me transcend my internal thoughts into reality. It was a form of expression that didn't need me to verbalize, so that really helped."
At a reception at GRACE at Reston Town Center last Friday with 200 people, her work along with 35 other students' works, was displayed at the show, "Emerging Visions: Contemplating Community." She submitted her first sculpture in 3-D composed of three tiled mirrors glued together in a triangular shape. It was placed in a glass box and has a plant growing out of it.
"I printed three images of my good friend on transparent paper and I cut out her face," she said. "Those images were pasted on the mirrors; it enables people to look straight at the mirror and see themselves wrapped in a hijab. That should prove to people that although you wear something different on your head, you are still human. And once people start to be accepting and tolerate other religions, then the community can develop and grow -- hence the plants growing," she said.
IN SEPTEMBER, Razan plans on attending the School of Visual Arts in Manhattan (SVA), where she'll be visiting next Friday, and which gave her a scholarship and the Chairman's Merit Award. She'll be pursuing photography and design. If that doesn't work out, she'll attend either GMU, GWU or Rutgers University. After she graduates from college, she would like to become an art director and work for publications or other media outlets.
Her dad Oussama is very proud of her accomplishments. "I feel she has a good future in art. You're witnessing a rising star now; we fully support her at home and we're hoping she gets a full scholarship to SVA so she can move to New York City," he said, adding that the family is thinking of moving to NYC in September.
The daughter of Oussama and Hadia Elbaba of Oakton Villa in Vienna, Razan maintains a 3.9 GPA at Oakton High and is involved in the school's Octagon Club; president of the Muslim Student Association (MSA); Team Up for St. Jude Hospital; the Visual Art Honor Society; and the National Honor Society.