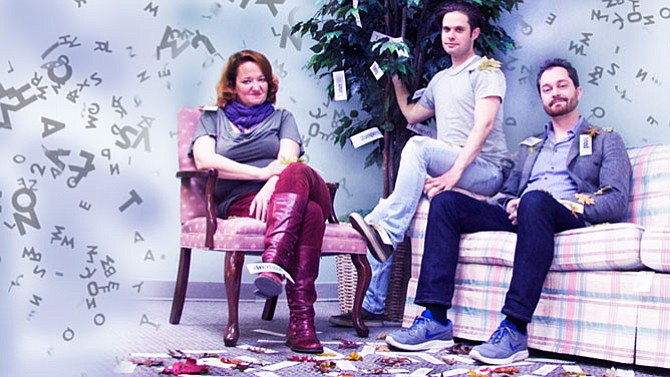 Where and When
"in a word" presented by the Hub Theatre performed at The John Swayze Theatre, The New School of Northern Virginia, 9413 Silver King Court, Fairfax.
Performances April 1 to April 24, Fridays at 8 p.m., Saturdays at 2 p.m. and 8 p.m. and Sundays at 2 p.m.
Tickets $30, $20 for 65+ seniors and for students.
Call 800-494-8497 or visit http://www.thehub...">www.thehubtheatre....
Fans of new plays have an opportunity to take in a "beautiful and funny play" about regular people trying to make sense of a family mystery, said Helen Pafumi, artistic director, Fairfax's Hub Theatre. It is an imaginative tale written by award-winner Lauren Yee, called "in a word."

"We have two people, besieged by a great loss, swimming in an abyss, and there seems to be no way to connect with each other," said Pafumi. "But even after the hardships and the utter bone weariness that their lives have brought, two people find a way to say the right words at the right time in the right way to bring each other back."
The mystery that the parents face is the disappearance of a son. Nothing makes sense. There is the mother, a seemingly blasé husband and an incompetent detective along with the kidnapper as key characters. The mother delves back into her memories trying to peel away missing pieces even as grief and comedy collide.
Yee writes "about the good and bad things that make us ache inside. She is extremely adept with the poetry of her words, and highly tuned in to the human condition," added Pafumi. "She writes what we love best at The Hub. Stories about our common humanity."
Matt Bassett, HUB company member will direct "in a word." He described the play "as an absurd comedy-drama about two people trying to reconnect in the strange new reality created by their son's disappearance. It is funny, sad, harsh and hopeful, just like us."
"Lauren Yee has written a play that examines one of the worst fears a parent has - their child's disappearance - but also examines the everyday fears a parent faces. I recognize so many of my own struggles and joys as the parent of a young child in this play." Yee uses "absurdist, magical-realist humor to discuss trauma, grief and a basic, and the desperate need for connection."
"in a word" demands actors who are smart, honest and collaborative, noted Bassett. He has cast three actors, all of whom are 2016 Helen Hayes Theater Award nominees including Colin Hovde, Kerri Rambow and Robert Bowen Smith.
Time is fluid in the play. There will be shifts, jumps, fights, rewinds, even trees growing before the audience's eyes. But, It is a play that depicts how strong human connections can be, even in the worst of times.