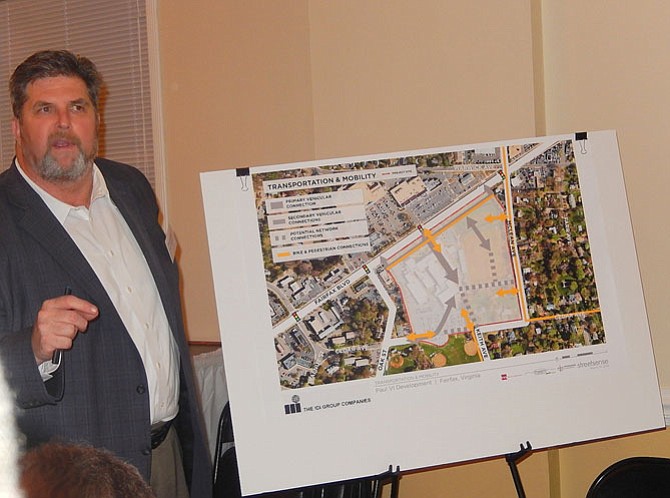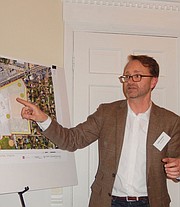 Street connectivity and what to do about the existing building remained top priorities of residents attending the second meeting about the fate of Paul VI High's current site. It was held March 10 at the American Legion Post 177 and drew some 120 people.
Planning must be done now because, in 2020, the school will move from its 18.5-acre home in the City of Fairfax to a larger, 68-acre site in Loudoun County where it will have room to grow. So developer IDI Group Cos. is obtaining community input and ideas.
"Tonight we'll tell you what we heard at our first meeting [Feb. 11] and show you how we incorporated it into our plans," IDI executive Enrico Cecchi told the crowd. "We plan to create a vibrant, mixed-use community with high-quality design and architecture."
"It'll feature urban plazas, attractive streetscapes and open spaces and will include market-rate, affordable and senior housing opportunities," he continued. "We also plan to respect and preserve the property's history. We really want the master plan to reflect what we've heard from the stakeholders in this community."
"We really want the master plan to reflect what we've heard from the stakeholders in this community."

--IDI executive Enrico Cecchi
IDI's completed plan will be presented this summer at a joint Fairfax City Council/Planning Commission work session. Then in late summer, there will be a follow-up meeting with the residents. On March 10, before attendees broke into four groups to discuss specific issues, IDI's project consultants related what the community said in February.
Chris Turnbull with traffic consultants Wells & Associates said, "Cut-through traffic is a problem, so we should explore traffic calming and consider connections in and out of the site. Many streets lack sidewalks, so there's potential for strong bike and pedestrian connections throughout the neighborhoods. Residents also asked us to consider the effects of other new developments on this site."
Since many drivers wait a long time to turn onto Fairfax Boulevard from the side streets, suggestions included using the existing traffic signal at Fairfax Boulevard as the primary access, as well as entering via Cedar Avenue and a service road parallel to Fairfax Boulevard.
"We want to look at potential connections to the area roads," said Turnbull. "And can bike and pedestrian connections tie into the existing bike route at McLean Avenue and connect to the trail on Keith Avenue?"
REGARDING SITE FEATURES, civil engineer Bill Zink with Christopher Consultants said residents want them to address flooding at Fairfax Boulevard in front of McDonald's, stormwater management and streetscape improvements. They also want a tree canopy, low-impact design features, native plants and irrigation, plus parking for Pat Rodio Park.
As for the flooding, said Zink, "About 150 acres drain to an inadequate, deteriorating pipe under Route 50 that needs to be replaced. There's also another pipe in the same situation that the City plans to replace. And streetscape improvements will incorporate drainage improvements to solve these problems."
Colin Greene, with design planners Streetsense, said residents want a mix of uses, mainly residential. They would also like some public open space, neighborhood-serving retail and a community use. They want senior and affordable housing and prefer owner-occupied instead rental, so condos instead of apartments. And they asked the developer to be sensitive to the neighborhood when incorporating the frontages.
"They want the community and public open space centrally located and near the park and neighbors," said Greene. "And the median could be a transition to the neighborhood."
Dividing the land into two zones, Greene recommended Zone A contain neighborhoods to the east and south, residential and public open space, with the frontage marked by sidewalks and trees. Buildings would be two to three stories. Zone B would consist of residential and retail community uses, plus community space. It would front on Route 50 [Fairfax Boulevard] and could have four- to six-story buildings.
Anna Maas with Thunderbird Archaeology said residents want the property's and school's history commemorated. Some want the building façade preserved and others want the original, 1934 building re-purposed. "Some want us to re-create the architectural features in the new buildings," she said. "And we could incorporate them into retail and commercial buildings along Fairfax Boulevard."
"We've met with City officials, staff and various members of boards, such as the Parks and Recreation Advisory Board and the Environmental Sustainability Committee, plus community groups," Cecchi told the residents. "We're here to generate your input into what we'll bring to the City."
AFTERWARD, City Councilman David Meyer said, "One of the core issues is how this site connects to Fairfax Boulevard while, at the same time, preserving the current access on McLean, Cedar and Keith. I think it would be a heavy lift for the Council to approve any plan that would increase traffic on any of those streets."