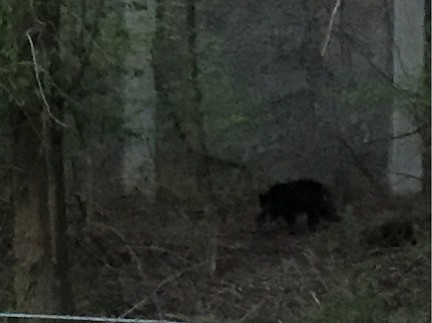 A black bear and a cub were spotted by a resident in the 1500 block of Windstone Drive in Vienna around 7 p.m. on Sunday, March 20. This location is near Difficult Run Stream Valley Park and Wolftrap Stream Valley Park. The bears posed no problems or issues but did stay on the property for about an hour.
On Wednesday, March 23, two small black bears were seen corssing Oakton Road. This location is near Waples Mill Meadow, Difficult Run Stream Valley Park and Tattersall Park.
On Thursday morning, March 24, a black bear and cub were spotted in the 2700 block of Bowling Green Drive. The bears were reported to have taken down a birdfeeder and plastic cabinet on a resident's patio. The bears also took a bag of birdseed from the cabinet before heading into the wooded easement along Interstate 66.
The Fairfax County Wildlife Management Specialist and the Virginia Department of Game and Inland Fisheries suggest residents take the following precautions to minimize encounters with black bears:
Keep a respectful distance! In most cases, the bear will move on quickly.

If a bear is up a tree on or near your property, give it space. Do not approach, and bring your pets inside to provide the bear a clear path to leave your property.

If you see a very small cub, do not try to remove it from the area or "save it."


The best way to encourage the bear not to return is to remove food sources. Do not store household trash, or anything that smells like food, in vehicles, on porches or decks.

Keep your full or empty trash containers secured in a garage, shed or basement.

Take your garbage to the dump frequently.

If you have a trash collection service, put your trash out the morning of the pickup, not the night before.

Take down your birdfeeder for 3-4 weeks after the bear visits.
Black bears have a natural fear of humans, and in most cases, would rather flee than encounter people. Contact the Fairfax County Animal Services Division, Animal Control Section at 703-691-2131 for further information.
Bear sightings should be reported to the Virginia Department of Game and Inland Fisheries through the Virginia Wildlife Conflict Helpline at 855-571-9003