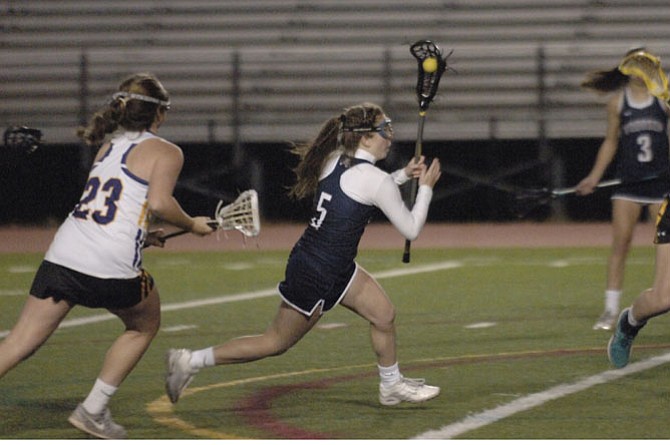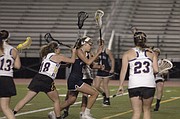 "Lackadaisical" is the term junior midfielder Emma Vinall and head coach Bill Lewis used when describing the Woodson girls' lacrosse team's first-half performance against Lake Braddock on Tuesday.
"Dominant" would be an accurate way to describe the Cavaliers' second-half effort.
After taking a 5-3 lead into halftime, Woodson came out firing in the second half and blew out the Bruins 18-4 at Lake Braddock Secondary School.
Woodson sophomore attack Logan Dougherty scored all six of her goals in the second half, Vinall finished with four and the Cavaliers improved to 3-1 overall and 2-0 in Conference 7.
"I think we started out pretty rough," said Vinall, who is committed to American University. "We came in kind of lackadaisical but I think we realized we were the better team and picked it up by the end."
Woodson built an early 5-1 lead but failed to score for the final 11 minutes, 21 seconds of the opening half. Lake Braddock goals by senior Dwyer Neal and junior Madison Lear cut the Cavalier lead to two entering halftime.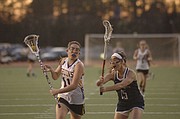 The second half was a different story, however, as Woodson scored 11 straight goals before Lake Braddock junior Bailey Edwards found the back of the net with 3:15 remaining, breaking a Bruins scoreless streak of roughly 29 minutes.
"I felt like we decided that we needed to start actually playing and not underestimate our opponents," Dougherty said. "Once we started scoring it just kept going. They couldn't really catch up after."
Dougherty had a huge second half, scoring six goals, including three in the first six minutes.
"The engine that could," is how Lewis described Dougherty. "[She] keeps on doing all the little things ­­­ working hard, wanting to get better, always wanting to improve. Practice is over and she's out there working on free position shots to make sure it's better."
Vinall scored twice in each half. Her fourth goal came from free position with 14:44 remaining and gave the Cavaliers a 12-3 advantage.
Vinall is a "great leader," Lewis said. "We follow her lead. She [was] dominant on draws again."
Sophomore attack Natalie Gates and junior defender Claire Cooke each had two goals for Woodson. Junior attack Meghan Byrnes, junior midfielder Meredith Mackay, senior attack Grace Stephan and senior attack Emily Williams each had one.
Neal scored two goals for Lake Braddock. Lear and Edwards each had one.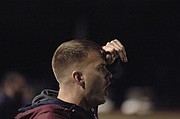 Lewis is in his first season as Woodson head coach. He coached the Hayfield boys' team last year, but has several years of experience coaching girls' lacrosse at the club level.
Lewis takes over a program that has won seven consecutive district/conference championships.
"I've taken over a tough program," he said.
Woodson will host West Potomac at 7:30 p.m. on Friday, April 1 in a rematch of last season's Conference 7 tournament championship game.
Tuesday's loss dropped Lake Braddock's record to 4-1 overall and 1-1 in the conference. The Bruins will travel to face Mount Vernon at 7:30 p.m. on Friday.
"It was good competition," Lake Braddock head coach Deb Maginnis said. "It was good for our girls. It was a fast­paced game; [Woodson] moved the ball well, so we've just got to get better."