The hot looks for spring, live entertainment, a luncheon and a silent auction are all in store for attendees of the 36th annual fashion show benefiting the Fairfax Salvation Army. It will be held Friday, April 15, from 10:30 a.m.-1 p.m., at the Waterford in Fair Oaks (off the ring road across from Fair Oaks Mall).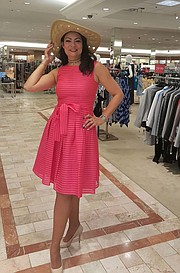 "It's a wonderful contribution to such a noble organization to help the causes it supports."
— Meg McLane, Co-President, Fairfax Salvation Army Women's Auxiliary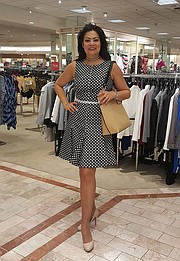 Sponsoring the event is the Fairfax Salvation Army Women's Auxiliary, and the fashion show – with both male and female models – will feature clothing from Lord & Taylor. Tickets are $50/person and lunch is included. For reservations, call Angela Ganey at 703-250-5809.
"The socializing, entertainment, luncheon, silent auction, fashion show and jewelry counter all make for a wonderful time in support of a great cause," said the Auxiliary's Meg McLane, co-president of the Women's Auxiliary with Sylvia Laiti. "It's fun to sit with friends and see the new fashions, as well as catch up and network with other charitable organizations."
McLane is also in charge of the models, scheduling their fittings and coordinating with Lord & Taylor. Co-chairing the fashion show are Barbara Stoetzer and Ganey. The social hour and silent auction will begin the day's activities; also planned are makeup demonstrations by Chanel.
Chris Poleto, Lord & Taylor's general manager, will narrate the fashion show. His daughter Ella will sing the National Anthem and "O Del Mio Dolce Ardor." And the Salvation Army's Major Kim Finehauer will play the baroque recorder, clarinet, French horn, flugel horn and alto horn. He and his wife Roxanne direct the Salvation Army's compassionate work in Fairfax County.
Modeling will be Carolina Hurtado, Liz Foltin, Randy Jennings, Jeanette Crutchfield, Lynn Falk, Jeena Ingraham, Barry Bateman, Bridget Sampson, Christina O'Connell, Paul Meade and Mary Lou Glover. Except for Sampson, who now lives in upstate New York, all the models live in either Fairfax, Vienna, Oakton or Fairfax Station.
The luncheon menu will feature chicken teriyaki, Waterford salad, jasmine rice and red velvet cake. And the table centerpieces will be sold at the event's end.
A variety of silent-auction items will be up for bid. They include an overnight stay for two at the Red Fox Inn in Middleburg, gift cards for Ruth's Chris Steakhouse and other restaurants, a bread basket from Great Harvest Bread, a Murano glass necklace and a Tiffany bowl.
All funds raised go toward the Salvation Army's many charitable causes. Some 1.2 million people call Fairfax County home. Yet although the median income is more than $100,000, deep pockets of poverty exist, along with great need. Last year, the Salvation Army Fairfax Corps served about 12,000 people in the National Capital region.
Thousands came for food, clothing and help paying heating bills during the harsh winter, plus back-to-school supplies and Angel tree gifts as the holidays rolled around. Living in poverty is a constant battle, so the Salvation Army tries to do what it can to help.
Throughout the school year, 50 children are picked up from school twice a week and brought to the Corps for free youth programs. Children work on their homework, read in the library or simply have fun in an all-purpose area. In addition, aspiring young musicians receive free instruction from professionals who volunteer their time through the Gospel Arts Music Program. The Salvation Army also supports a mission in Mexico and sends underprivileged children to summer camp.
That's why, said McLane, attending the annual fashion show/luncheon is so important. "It's a wonderful contribution to such a noble organization to help the causes it supports," she said. "It's also an enjoyable, uplifting day; and the sense of satisfaction we have, knowing we've made a difference, is worth all the hard work."