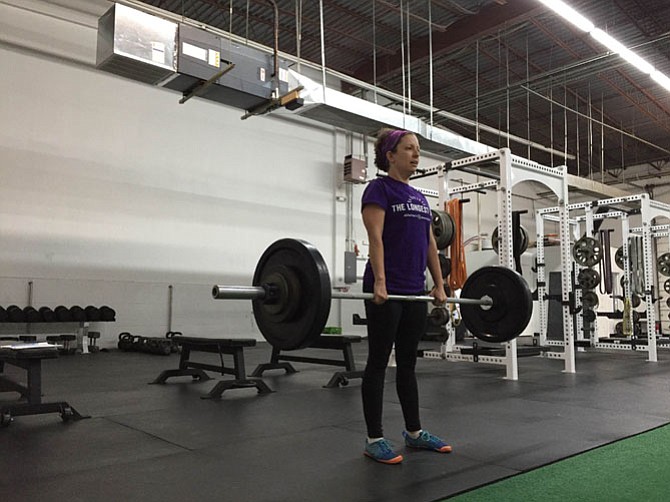 Emily Rusch says her mother died a slow and heartbreaking death from Alzheimer's Disease. The experience felt continuous and excruciating.
"Caring for someone with Alzheimer's is really like one never-ending day," said Rusch, office manager for Strength & Performance Training, Inc. (SAPT) in Fairfax.

"Caring for someone with Alzheimer's is really like one never-ending day."

— Emily Rusch
This June, she and her team of SAPT colleagues will join with teams of people around the world to participate in The Longest Day, a sunrise-to-sunset challenge to raise awareness and funds for research programs of the Alzheimer's Association. The name of the event honors the strength, passion and endurance of those facing Alzheimer's.
Held annually on the summer solstice, The Longest Day symbolizes the challenging journey of those living with the disease and their caregivers. Teams are encouraged to create their own experience as they fundraise and participate in an activity they love to honor someone facing the disease.
SAPT will hold a fundraising event on June 18 by offering free workouts and classes for 16 continuous hours. "We're open for all of the daylight hours on the 18th, and in return, we're asking for donations that will go to support the Alzheimer's Association's mission," said Rusch.
The SAPT team is also taking donations in advance and has raised nearly $1,000 of their $5,000 goal. Rusch hopes to do her part to halt the disease's cycle which she has experienced first-hand.
"My daughters were 8 and 11 when my mother died. They never really knew because she was in the advanced stages of Alzheimer's," she said. "When I was a child, my grandmother had Alzheimer's so I never knew her either. I'm doing the Longest Day because research is important to finding a cure or viable treatment."

Yen DeAnda of Alexandria, whose father has Alzheimer's, is participating in The Longest Day and is the captain of Springfield's Team Bridge Heroes United. The team, which is based out of a retirement community in Springfield, is intergenerational. There are high school students who play alongside seniors.

This June will be their fourth year participating in the event. In the last three years, the team has raised more than $58,000 for the Alzheimer's Association. In 2013, the team's first year, they finished in the top 20 teams in the nation. In 2014 and 2015, they finished in the Top 10.
"The [seniors] need exposure to different people to stay engaged and alert. The kids light up the room when they are there," said DeAnda. "Some kids have brought their grandparents to play."

The bridge club helps seniors in two ways. Club members raise money for Alzheimer's research by playing the game, and the game itself is an activity that keeps seniors engaged.
"You're forced to interact with other people and that helps you keep your sanity," said DeAnda. "Social connection is huge."
While June 20 is the official date for The Longest Day event, the Alzheimer's Association encourages activities and fundraising around this date.
Cindy Schelhorn of the Alzheimer's Association says that teams across the nation develop creative ways to raise money. "We've seen … Rocking Chair Marathon … writing letters to loved ones, yard sales [and] yoga."
For information, visit alz.org/thelongestday or call 800-272-3900.