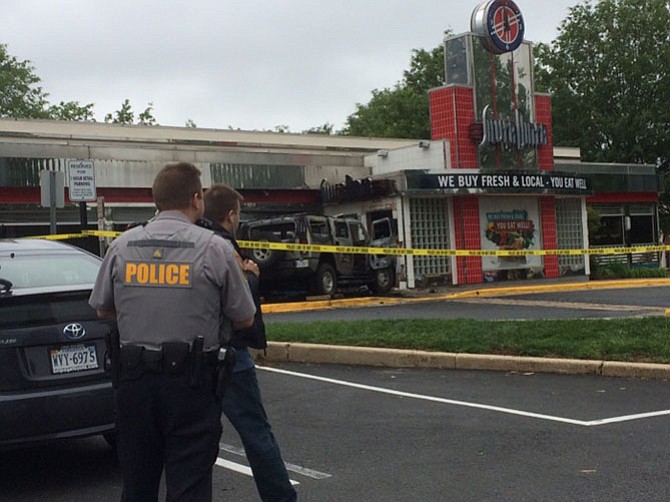 A 59-year-old suspect set himself on fire after driving his vehicle into McLean's Silver Diner on Wednesday, May 4, according to Fairfax County police reports.
Four people were injured, including a 74-year-old McLean man, when the driver hit the Silver Diner, 8101 Fletcher St., with his SUV around 12:38 p.m., according to Fairfax County Police reports.
Two days later, detectives with the Major Crimes Division obtained arrest warrants to charge the 59-year-old Springfield man with malicious wounding and destruction of property, according to warrants.
"During the initial investigation, it was determined that [the suspect] allegedly intentionally drove his SUV into the building multiple times. When doing so, he struck a 74-year-old man from McLean, that was entering the business," according to police documents.
The suspect then "was observed pouring liquid on his body and lighting himself on fire while inside the vehicle," according to police reports.
A CITIZEN alerted off-duty county police officer, Brent Moreau, of the scene. Moreau was in the area and helped escort bystanders away from the burning vehicle.
Chief Flight Officer, Second Lieutenant Jennifer Lescallett, of the Helicopter Division, aided the injured people.
[The suspect] "remains under the care of a local hospital. Warrants will be served upon his release in coordination with our detectives in the United States Marshal's Capital Area Regional Fugitive Task Force," according to police.
The Fairfax County Office of the Fire Marshal continues its investigation, which worked the case with the Police Department's Traffic Division's Crash Reconstruction Unit and Major Crimes Divisions.
Additional charges are pending against the suspect, according to Willie Bailey, Fairfax County Fire and Rescue Public Information Battalion Chief.
Two injured bystanders were transported to local hospitals with non-life threatening injuries. Another was treated at the scene.
The Fire and Rescue Department extinguished the fire, according to police reports.