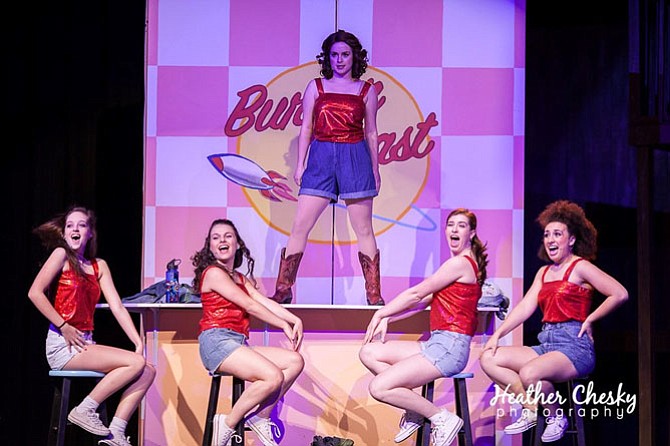 Westfield High School's production of "Footloose" [April 30] was full of standout performances both on the technical and performance scales. This fun-loving musical was a definite crowd pleaser, and had audience members clapping and getting into the music.
Based off the 1984 film of the same name, "Footloose" was nominated for four Tony awards. While most critics claimed that the script was not very well-written, the vibrant cast made the show a hit. When a teenage boy named Ren moves from Chicago to Bomont following his father's abrupt abandonment, he is shocked to find that dancing is illegal. This anti-dancing law was passed after four teenagers were killed in a car accident after leaving a dance. One of the deceased is Reverend Shaw's son. The Reverend's daughter Ariel, a reckless girl tired of her father's strict rules, becomes infatuated with Ren. With showstopping songs and much illegal dancing, they try to overturn the law while bringing some long overdue healing to Bomont.
One of the most impressive aspects of Westfield's "Footloose" was the lights. The lighting crew (Kristen Chiama, Alison Tickner, Katie Sanfield, Hallie Puckett) pulled out all the stops with their design and execution. The true fun spirit of the show was portrayed through colorful disco lights, creative wave and flower designs, and neon lights lining the edge of the stage. Also equally impressive was the set design (Kristen Chiama, Isaac Mantelli). One of the most prominent set pieces was the beautiful stain glass window which was appropriately illuminated throughout the show. The set design also had many levels which worked to create some beautiful stage pictures.
Starring as Ren, Conner Rudy proved to be a technically advanced dancer by executing difficult dance moves with ease and confidence. The show's choreographers, Meredith Mehegan and Sarah Bresnahan, created fun dances that accommodated dancers with ranging skill levels. One character that stood out for his lack of dance expertise was Keegan Garant in the role of Willard. Garant had the audience rolling in laughter with his cowboy gait and strong southern accent. Garant sold every single scene he was in by fully committing to his character's bold awkwardness. In "Mama Says," Garant along with the Boy Posse put on an impressive performance both vocally and comically.
In his role of Reverend Shaw, Eni Oyeleye gave one of best vocal performances of the night. Not only was he a superb singer, but he was also able to simultaneously portray complex emotions. As the Reverend's daughter, Ariel, Molly Van Trees also gave an all-around great performance from her beautifully clear vocals to her believable stage chemistry with her character's ex-boyfriend, Chuck (Embrey Grimes).
While there were some sound challenges during the show, performers such as Shaina Greenberg (Rusty) dealt with them with absolute professionalism. In the scene leading up to Greenberg's big solo, "Let's Hear It for the Boy," her microphone was not working. With the help of another cast member, Greenberg seamlessly integrated a hand-held mic to compensate for her unresponsive face mic. She then gave a wonderful performance that gave no indication of her prior sound struggles. As Rusty, Greenberg also brought a burst of energy whenever she came onstage.
Overall, Westfield High School's production of "Footloose" was filled with strong performances and fun dancing numbers that made audiences want to "kick off their Sunday shoes."