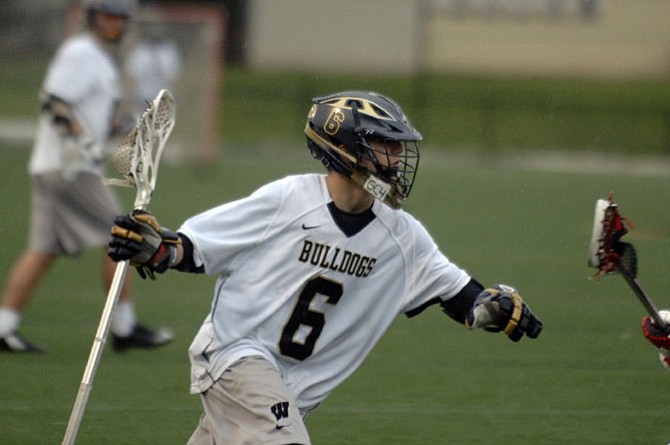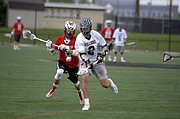 The Westfield boys' lacrosse team managed to keep its season alive Friday, but not without a little tension and controversy.
Despite producing a 2-9 record during the regular season and failing to win a conference game, Herndon trailed Westfield by one and had possession with less than 30 seconds remaining in the opening round of the Conference 5 tournament. The Hornets, however, failed to score and had their season end with a 12-11 loss to the Bulldogs on May 6 at Westfield High School.
During Herndon's final possession, the clock operator started the clock prematurely, allowing at least six seconds to run off. Herndon head coach Dave Baggetta said while he was frustrated by the clock error, it did not cost Herndon the game.
"When the clock runs like that, it's definitely frustrating but that is part of having home-team advantage," Baggetta said. "But the flip side of that is we had opportunities throughout the course of the game that we didn't finish on. So while that would have been one more opportunity for us that may have given us a chance, we had other ones throughout the course [of the game]. Westfield played a good game start to finish. It would have been nice to have that full 25 seconds, it would have given us a chance to finish strong, but at the end of the day, that's not what would have won or lost the game. There were other opportunities."
Westfield improved its record to 8-7 and secured a berth in the 6A North region tournament. The Bulldogs will travel to face No. 2 seed Centreville in the conference semifinals at 7 p.m. tonight.
Westfield took a 12-9 lead when Kevin Petrillo scored with 8:30 remaining in the contest. Herndon's Cliff Painter answered with a goal nine seconds later, and then neither team scored for the next seven-plus minutes.
Herndon's Joe Wilson found the back of the net with 44 seconds remaining, cutting the Westfield advantage to 12-11, but the Bulldogs were able to hold on.
"I knew they were going to come ready to play and they did," Westfield head coach Phil Polizzotti said, "and we were lucky to get out of here with a win."
Sean Eckert and Joey Franchi each scored three goals for Westfield. Jack Martin and Petrillo each scored twice and Alex Horgan and Andrew Markert each added one goal.
Westfield led 5-3 at the end of the first quarter. The score was tied 8-all at halftime.
"We came out in the first half kind of loafing around, expecting it to be an easy win," Eckert said. "At halftime, we regrouped and we got together."
Westfield defeated Herndon 7-5 on April 1 during the regular season. The Hornets lost their other four conference games by an average of 10 goals.
On Friday, Herndon, the No. 6 seed, gave No. 3 Westfield all it could handle and Baggetta is hoping the Hornets can build off the performance during the offseason.
"I look at tonight as a perfect example of what happens when you play as a team and you play with confidence," Baggetta said. "What I hope is that the boys learn from this and over the months to come that confidence grows so that when they start off next season, they're able to come out with confidence to start."
Herndon's Jonathan Durette scored five goals in the first half, but Westfield held the freshman attackman without a goal in the second half.
"We just told whoever was playing him to play him a little bit tighter, don't give him any space," Polizzotti said. "We weren't letting him get his hands free, from a defensive perspective."
Next up for Westfield is a Centreville team that beat the Bulldogs 12-9 on April 19 during the regular season.
The Conference 5 tournament championship game is scheduled for 7 or 7:30 p.m. on Friday, May 13.