Mount Vernon Physical Therapy is proud of providing healing and service to the community.
This past April, Mount Vernon Physical Therapy CEO Lee Vaughan Wampler and co-owner Stephen Sarro along with their staff assisted a first grade class at Riverside Elementary in a shoe drive.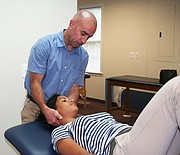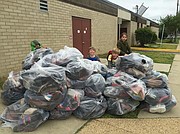 "Patients would come in to donate shoes and tell their friends, their neighbors, and their churches about the shoe drive. They were able to bring in Hefty bags full of shoes," Wampler said.
One of the patients at Mount Vernon Physical Therapy is also a parent of a child in Virginia Rivas' first grade class at Riverside. She informed the staff about the PTA's shoe drive and enlisted their help in collecting shoes. The PTA partnered with the charity Funds2orgs.com to collect and distribute recycled shoes to individuals living in developing countries.
At the end of the four-week drive, Charity Funds@orgs.com sent a tractor-trailer truck to collect and weigh the shoes.
Each class at Riverside Elementary competed to see who brought in the highest number of shoes.
Of the 297 pairs of shoes that Riverside collected, Rivas' class and Mount Vernon Physical Therapy brought in 250 pairs of shoes. Thanks to Mount Vernon Physical Therapy setting up donation boxes in their facility, Rivas' class won a pizza party and trophy for collecting the most shoes.
In return, Rivas' class wrote thank you notes to the staff of Mount Vernon Physical Therapy. They also sent a thank you poster, which is hanging in Mount Vernon Physical Therapy's lobby area.

"Our goal is not just physical therapy. It is also doing community outreach. And we are always looking for opportunities to do this," she said.
During this past year, they also assisted Waynewood Elementary School in raising funds through their Run/Walk race event.
In addition, they plan to continue aiding Riverside Elementary and other local schools in their fundraising efforts.

The clinic also regularly provides services to local high schools. Through the West Potomac High School's Career Academy program, they allow students to explore the physical therapy field and other healthcare careers through volunteering at Mount Vernon Physical Therapy. They also provide sponsorship and services to athletes at Mount Vernon High School and sports screens to athletes from Mount Vernon and West Potomac High Schools.
In June, their staff will participate in the Anderson Orthopedics Op Walk (Operation Walk), a local walk-run event that raises funds for joint replacement surgeries in developing countries.
Last summer, Lee Vaughan Wampler and her business partner Steve Sarro (PT, OMT, CEAS-co-owner) opened the Mount Vernon Physical Therapy after discussing developing a small private physical therapy clinic to offer support to the local community.
"It's great running into patients at the local grocery store and asking them how their low back is doing. And of course the big question is 'are you doing your exercises?'" she said.
Mount Vernon Physical Therapy specializes in orthopedics, sports medicine care including all types of pain, strains and post-surgery care.
All of the physical therapists have at least 17 years of experience. They also have close connections with local physicians, which is an integral part of their patients' rehab success.
The staff use a combination of manual therapy care with educating the patient and providing them with functional training — teaching them how to function with good mechanics in their daily activities — in each session.
"Our priority is to have our patients reach their greatest potential," she said.
The staff's connections in the Mount Vernon community helped the clinic overcome the challenge of forming a client base when it first opened.
"We will always remember the first few patients who came to us, who seemed to follow us from previous job locations … Patients have expressed that they enjoy the camaraderie of staff and patients together; they say they may be in pain; but they enjoy coming to see us," she said.
Wampler credits her staff with establishing a warm and caring healing environment through their camaraderie and commitment to their patients.

Wampler, PT, CEO- and co-owner has over 20 years of experience in orthopedics and sports medicine working in or managing several private practices, home health agencies, nursing homes and outpatient clinics. She also has a Bachelors in physical therapy from Howard University. In addition, she invented the Flexboard, an Achilles stretch device, used in clinics team training rooms and fields, senior living facilities, gyms and homes nationwide.
Co-owner and COO Sarro has a Bachelors in physical therapy from University of Lowell, Ma. He went on to advance his skills in orthopedic manual therapy with a two-year residency at the Institute of Orthopedic Manual Therapy in Woburn, Ma. In addition, he is a certified ergonomics assessment specialist.