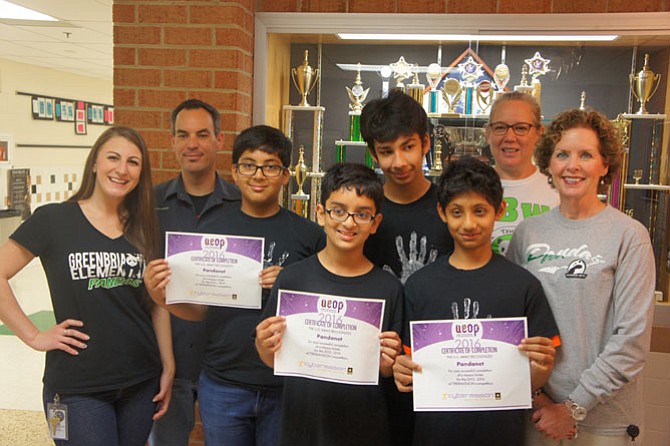 Four sixth-graders from Greenbriar West Elementary School have been selected as national finalists for the eCybermission competition, sponsored by the U.S. Army and administered by the National Science Teachers Association.
The web-based science, technology, engineering and math (STEM) program is designed to cultivate student interest in STEM by encouraging students in grades six through nine to develop solutions to real-world problems in their local communities.
"At first we were kind of shocked, because we assumed that we wouldn't win anything," said team member Aarav Bajaj of winning the regionals. "We were really excited that we could take our idea to the next level."
The GBW team called Pandanet is comprised of students Aarav Bajaj, Aryan Kumawat, Siddharth Krishnan and Siddharth Tibrewala. They were selected from 60 regional finalists by a panel of judges consisting of U.S. Army STEM professionals.
Each team presented a live, four-minute presentation on their project and then participated in a Q&A. The judges looked at how well the teams identified problems in their community using STEM to propose a solution. The eCybermission's national judging event will be held June 20-24 in Leesburg.
Team Pandanet worked with advisor Meera Krishnan to advocate the Healthy Hands Movement. Pandanet's project focused on bringing RSI awareness — Repetitive Strain Injury '— amidst the youth by performing finger, thumb and hand stretch exercises during the course of a school day to alleviate hand pain. Sometimes known as writer's cramp, RSI is a result of overusing the upper extremities and causing injuries to the muscles, tendons, and nerves.
According to Sidharth Krishnan, "We started brainstorming about back problems, but then one of us decided about pain in the hand because at our school, we have a period where we write for 15-20 minutes, called Writer's Workshop, and people were complaining about hand pain and cramps, so we were interested in trying to find out what the problem is and how to fix it."
He added: "We found out there are flexor tendons and extensor tendons, and we found the flexor tendons were being overworked. We found out that microscopic tears can injure your synovium. And the synovium produces fluid, and when this is injured, it will fail to produce fluid. In this case, your joints might be less lubricated because synovial fluid is a lubricant for your joints."
So they contacted many specialists, including hand therapist Bharat K. Vallurupalli and hand surgeon Dr. Paul Mecherikunnel, who proposed exercises to give rest for the hands and stretch out the tendons.
The team started working on the project last September, doing research and interviews, making posters, a video, brochures, creating a web page and polishing their presentation. When it was ready, they made a mission folder and submitted it to eCybermission; it was due at Regionals in February. Here is Pandanet's webpage: http://pandanetmission.weebly.com/
They also met with the Fairfax County Schools Health Advisory Committee, who said they might implement their ideas into classrooms in the coming years.
After winning the regionals and advancing to the nationals, the team has won a total of $16,000 in U.S. Savings Bonds so far; $4,000 for each student. They also receive an all-expenses paid trip to Leesburg for the nationals.
This year's nationals event features a live-streamed showcase and awards luncheon, tour of Washington, D.C., and a STEM Challenge featuring demonstrations and hands-on activities. As a state winner, they were one of 60 teams from 4,381 teams that submitted projects that moved on to the regional final where they emerged as the Northeast region winners to advance to the nationals.
Friends for about four years, together the boys participate in GBW's Math Club, Science Club, Chess Club, Science Olympiad, Science Fair and ACSL (computer programming).
Team member Siddharth Krishnan, 11, of Centreville, is the son of Meera and Ram Krishnan. For his strategy, he said: "I always try my best to achieve a goal, and if you have a goal, work towards it and some day you will accomplish it. My strategy is I always put in extra effort to plan more and do more research. I try to be the best I can be."
Aarav Bajaj, 12, of Point Pleasant in Chantilly, is the son of Rashmi and Amit Bajaj. He said: "My strategy is to plan ahead to know what I want to do so that it makes everything that I want to do easier. My other strategy is not to give up when I'm doing something."
Siddharth Tibrewala, 12, of Centreville is the son of Ajay and Shreya Tibrewala. He added: "I like to work hard, practice and achieve. For example, when I play basketball, I practice and then I achieve my goals. I just like to put in all my effort and do as good as I can."
Aryan Kumawat, 12, of Chantilly is the son of Rajendra Kumar and Manta Kumawat. His strategy is: "I say, when I fail, then I try, try, try again. Every time I get a math problem wrong, I get it wrong again, then I get it right, and then I continue to get it right."