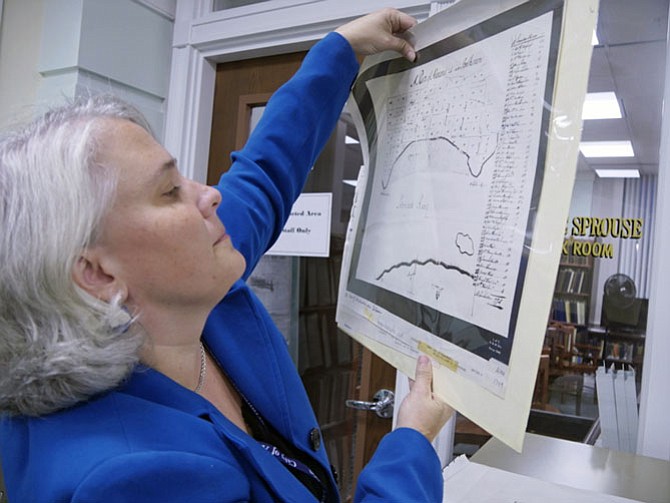 "What's Behind the Glass Wall?" The sign sits outside the Local History and Special Branch of the Alexandria Library on Queen Street. It indicates that behind the glass walls are over 40,000 photos and images, 14,500 books and historical journals and 3,140 rare books plus 200 maps.
Tricia Walker, the new director of three weeks, holds a glass plate with three images, which was an early photo format from the mid-1860s. She says there is some damage in the emulsion. Walker explains the library has been given 100 of these including Lantern slides trapped between two pieces of glass, donated by W.F. Smith, so she is doing a one-time project to evaluate and preserve them. Walker will encase the negative side in buffered paper to rectify the acidic content. Walker urges people to label their photos because in one or two generations no one can identify the people anymore.
She added that moving around the country has allowed her to see how humidity is a big variable. It can be good for basketry or bone but not for pictures. When she worked in Arizona, there was no mold problem but it could get too dry, and the negative would wrinkle up. Walker said, "I love stuff like this. It entices people and draws them in." However, she says that anything post-1923 can have a potential problem with copyright. "Do we have a deed a gift. Who created it? Can they give us intellectual property rights?"
Walker has unlocked the door to the secure room with the rare manuscripts. "Doctrine and Discovery in Methodist and Episcopal Church of 1853" sits inside a locked cabinet with the "Poems of Nineteenth Century Illustrated" which is covered in an elegant maroon with gold inlay. She says this collection of books is what they were reading at the time. "That one's coming apart," she said. It is from 1860. She explains that the books are encased all an inert polyester because the leather gets rot that comes off on clothes and is hard to get off."
Walker said she spent a lot of time with her nose in a book while she was growing up. When her maternal grandmother found out she was going to major in library sciences in graduate school she got very excited. Walker said, "I thought I would be an academic librarian but there was a speaker at UNC when I was in school who was documenting the American Southwest, and I followed her back after the lecture and started quizzing her. I ended up with a job."
Walker moves to the closed stack. She says that people can come in and look but books cannot leave the room. "This is our biography section." They have security measures in place. A number of people come in doing genealogy, or the history of their Alexandria houses, or archeology. She moves to a long drawer full of map reproductions. Presbyterian Cemetery; Alexandria 1760.
She says she spends a lot of her day answering questions from the public from who was the President in the 1920s to identifying a family member from the Civil War. Also there is a lot of administrative work like upgrading policies and procedures — and looking for grant funding to care for their collection. In addition, she searches for good projects for digitalization from what is high use to what is in the public domain.
Walker came to the Alexandria Library form the Museum of Northern Arizona in Flagstaff where she was the only archivist and focused on the history of local tribes such as Hopi and Navajo and also the Grand Canyon. She said it allows one to see both sides of an issue. But after being a processing archivist at the University of Missouri, she returned home to Virginia.