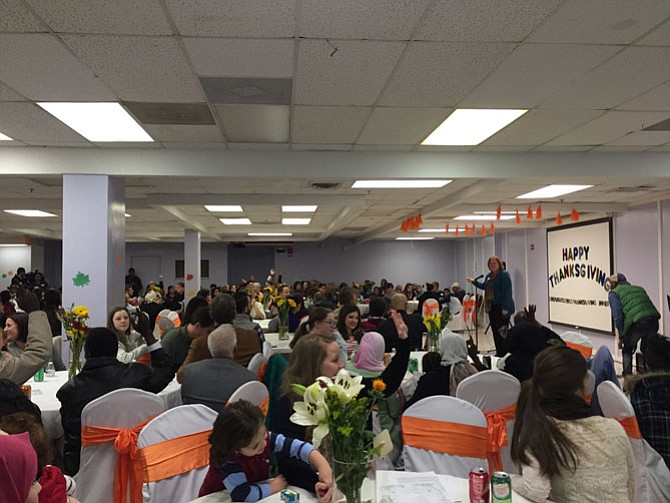 "Things like this foster collaboration and diversity. I'm thankful for people who have open minds." — Jasmine Saini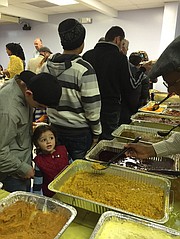 Arabic. Amharic. Burmese. Spanish. There were dozens of languages spoken from the nearly 200 people at the "Refugees' First Thanksgiving" dinner. They'd all come to the United States to get escape war or persecution. On Nov. 20 they gathered at Ethiopian Community Development Council (ECDC) off of Columbia Pike, like centuries of Americans before them, to share a meal and give thanks.
According to Sarah Zullo with the ECDC, this is the 5th year the ECDC has hosted the event. The council started in 1983 to assist Ethiopian immigrants to Arlington, but has since expanded to help all groups of people that are new to the United States.
"This is our way of celebrating and honoring the spirit of Thanksgiving; by getting together and breaking bread," said Zullo. "Thanksgiving really shows the kindness of the American people. The first settlers were shown by the American Indians how to survive the winter and how to plant their crops. We continue that tradition. If you sit with someone and take the time to know them, you'll find you have more in common than you realize."
"America is a county of immigrants," said ECDC President Tsehaye Teferra. "Some came here earlier, some came later. As a refugee organization, I'm thankful to American society for welcoming newcomers and refugees after facing so many uphill battles. For newcomers, I hope this is a tradition you will remember as a holiday of your own. So many thousands and thousands of refugees still need prayers and protection. I hope we will all remember them. We are the lucky ones. Our obligation, our duty, is to remember those left behind."
"The food in this area is nice, particularly the chicken," said Arbab Hassan, at the dinner with his family. Hassan and his family had come to the United States from Sudan one year ago. "And the company is nice. We eat so much."
Some refugees were still getting settled in and said coming out to this dinner gave them a chance to take a breath and relax.
"It feels good," said Ijlal Haider. "Everything is going good. I've never had a Thanksgiving before, but we're looking forward to finding out more about it."
"Everything is OK here," said Ohari Ongena, who came to the United States with his family from Tanzania four months ago. "I'm grateful we don't have segregation here. White and black, we're all the same."
"Feels good. I'm happy being here with family," said Sophie Tuwombe, who moved to the United States from the Democratic Republic of the Congo one month ago. "It's nicer here than it was back home."
Tania Hassan found out about the event through a co-worker and encouraged her friends to come with her. The five of them all volunteered together at the dinner.
"Things like this fosters collaboration and diversity," said Jasmine Saini. "I'm thankful for people who have open minds."
"I'm thankful for the blessings I've been given and the opportunities," said Jahanzed Piracha, "I'm happy to see people coming together for something like this."