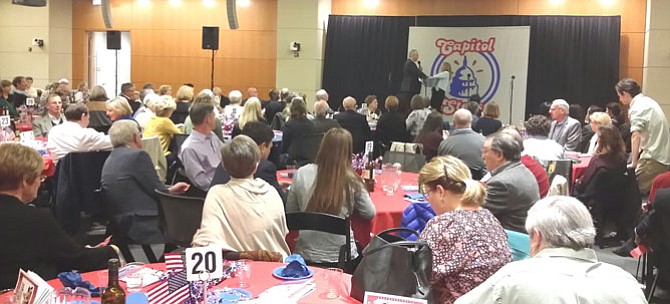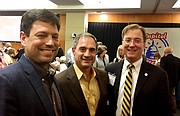 The Capitol Steps Benefit for UCM raised more than $75,000 on Nov. 13 in the Madison Auditorium at the US Patent & Trademark Office. The DC-based musical political satire troupe, The Capitol Steps, performed their bi-partisan show to a sold-out crowd of more than 350 community members.
The performance included new skits that poked fun at the presidential candidates, former Presidents, and Supreme Court Justices.
"I look forward to this performance each year. It's a fun event to support a cause we can all rally around," said Elin Bohn, president of The Friends of UCM.
The event welcomed the presence of state Sen. Scott Surovell, State Delegate Paul Krizek, and Fairfax County School Board Member Karen Corbett Sanders (Mount Vernon District). Event sponsors included Title Sponsor Doug and Eileen Kennett, Diamond Sponsor AT&T, and Gold Sponsor Elaine Kolish and David FitzGerald. The complete list of sponsors is available at ucmagency.org/CapitolSteps. Since its inception, The Friends of UCM have raised more than $2.4 million for UCM.
Proceeds from the event enable UCM to continue providing quality services, including early childhood development, emergency food and rental assistance, ESL literacy and citizenship preparedness, and youth leadership development. This year's performance marked the 25th annual benefit for UCM.
For more information, visit ucmagency.org.