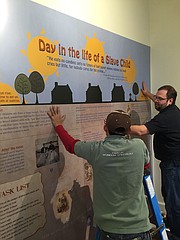 Robert Sanabria had over 650 paintings, mainly of concentration camps, slave quarters and insane asylums, and no idea what to do with them. His wife, Sherry Zvares Sanabria, a former Torpedo Factory artist, died in 2014 and left him with the paintings that had been a lifelong art project dedicated to what she called "sites of conscience."
But through a mutual friend of the Sanabrias and the museums, Sherry Sanabria's artwork is the centerpiece of a new gallery at the Alexandria Black History Museum. The museum will feature Sherry Sanabria's paintings depicting sites that played a role in American slavery alongside displays about life for black Americans living under slavery.
"The paintings here are African American heritage sites across the United States," said Audrey Davis, director of the museum. "These are places that were painful but should never be forgotten."
The addition of the Sanabria paintings also marks a major transition for the Black History Museum. The previous exhibit, The Blessings of Liberty, has been on display since 2006. The exhibit covered black history in Alexandria from its founding to 1830. The plan was to have a several part series covering black history throughout the centuries up to the present, but Davis said funding dried up and the exhibit remained on display for 10 years. The museum was also beginning to face expiring loans on many artifacts on display from Mount Vernon and other sites. Davis said the timing of being approached to put the paintings on display could not have been better for the museum.
While the paintings focus on black history throughout the United States, Davis said the paintings will be accompanied by displays that specifically look at plantation slavery and urban slavery in Alexandria. One lesson learned over the years with the previous display is that the museum has more visitation from parents bringing their children than expected, so the new exhibit is also more interactive and child-friendly. One chart shows the height at which a child was considered grown enough to take on adult work. A bucket nearby will show how tiring carrying water around the farm would be, a task generally assigned to children. The museum will also look at the daily life and cultural aspects of being a child growing up in slavery, like the Topsy-Turvy doll that can alternatively transform from a black girl into a white one and back again.
Davis said having a new gallery on display will also give the museum time to begin research and fundraising for the second phase of The Blessings of Liberty. The second phase will look at Black History in Alexandria during the Civil War and through Reconstruction.
"It's a look at what have we lost and what will we lose?" said Davis, noting that it's a lesson particularly relevant today with the planned demolition of the historic Ramsey Homes next door.
For Robert Sanabria, the gallery is also an opportunity to remember his wife.
"It's unusual in its direction and very well done," Robert Sanabria said of his wife's work. "I want her to be protected and preserved, not only her work but her reputation."
More like this story