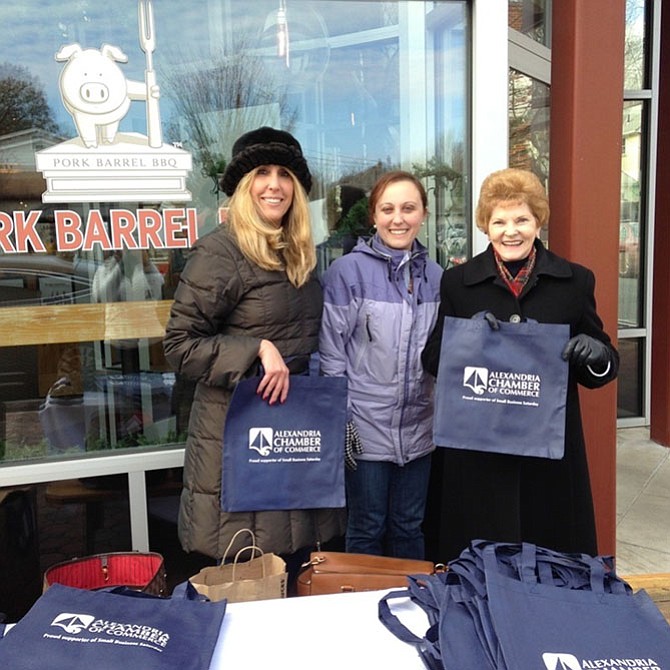 You've made your list and checked it twice. If you aren't already one of the 57 percent of shoppers who have started their hunt for holiday gifts, circle Nov. 26 on your calendar for the seventh annual Small Business Saturday.
Alexandria will again serve as the Washington region's Shop Small headquarters for this year's Small Business Saturday. Locally owned boutiques throughout the city will offer special promotions and the Chamber of Commerce will be handing out specially branded shopping bags filled with promotions from local businesses.
"Our local businesses are thrilled to do this," Simmans said. "From restaurant gift cards to tickets to George Washington's Mount Vernon Estate, the Small Business Saturday promotions help keep shopping revenue here in the city."
About 100 random bags will contain gift cards to local eateries or attractions, including A la Lucia, Pork Barrel BBQ/Sweet Fire Donna/Holy Cow and Port City Brewery. Each bag will contain maps with 70 lucky shoppers receiving a collectible plate from George Washington's Mount Vernon Estate.
The Chamber of Commerce is partnering with Visit Alexandria, the Old Town Boutique District, the Del Ray Business Association and the West End Business Association to combine promotions, including an expanded Random Acts of Holiday Cheer with surprise giveaways from an Elf Prize Patrol that will continue each Saturday through Christmas Eve. Pop-up musical performances will be provided through the Alexandria Arts Alliance with hands-on activities at the Mobile Art Lab.
"We are excited to be promoting Alexandria and our businesses as the place to 'shop small' for big rewards," said Chamber CEO Joe Haggerty. "The majority of our member businesses are independently owned and face unique challenges in competing for shoppers. Programs such as this provide cross-marketing opportunities and establish Alexandria as the ideal location where shoppers can find one-of-a-kind treasures as they begin their holiday preparations."
For more information on holiday events visit www.VisitAlexandriaVA.com.