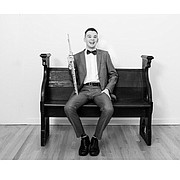 A local rising Eagle Scout with a passion for music and reading has reached out to a local nonprofit organization to lend his talent to help children who may not have a book to call their own. Flutist Xander Day will hold a benefit concert from 6 to 7 p.m. on Sunday, Oct. 9, 2016 at The Church of Jesus Christ of Latter-day Saints located at 2727 Centreville Road in Herndon. In lieu of an admission fee, Xander will ask attendees to bring a new book, suitable for elementary school age children, to donate to Assistance League of Northern Virginia's Make A Difference Day children's book drive. The Oct. 9 concert is open to the general public.
To earn the Eagle Scout rank, Xander wanted to "give back to the community in a way that is meaningful and personal." He comes from a family of professional musicians and music teachers and was eager to "combine his passion for music and his love of reading in a unique service project." Xander is an accomplished flutist who studies with Aaron Goldman, principal flutist of the National Symphony Orchestra and a rotating flute section member of the American Youth Philharmonic, frequently playing principal, and a National Symphony Orchestra Fellow. Xander will be accompanied by a team of classically-trained musicians, including other members of his extended family, and the program will incorporate all instruments and include classical, patriotic and other music performed by soloists, duets and chamber groups.
In addition, the rising Eagle Scout will set-up collection boxes at local high schools, churches and community centers and at his family's business, Day Violins LLC, in Chantilly. All of the books collected will be donated to Assistance League's children's book drive.
Assistance League gratefully accepted the Oakton High School senior's offer to donate his musical talent to help the nonprofit jump start its Make A Difference Day campaign. Xander's performance-based project aligns with Assistance League's vision of Caring and Commitment in Action and complements its Operation School Bell® literacy program, Reading Express. For more information on the organization, visit www.assistanceleague.org.