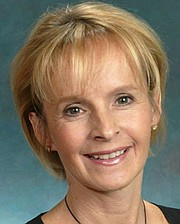 RE/MAX 100 Real Estate Agent Ava Kennedy earned the RE/MAX Lifetime Achievement Award in August 2016 for her commitment to her career and dedication to the RE/MAX Network.
The achievement award signifies a commitment of a minimum of seven years with the RE/MAX Network and the attainment of a major milestone in the volume of business conducted throughout an agent's career. Less than six percent of all active agents in the RE/MAX Network have achieved this award since its inception.
The award was presented to Ava Kennedy during a Sales Meeting at the RE/MAX 100 Springfield Office on Sept. 14, 2016. According to Kennedy, the honor was unanticipated.
"I truly didn't expect it," said Kennedy. "This award really is an honor I owe to my clients. Their loyalty, commitment and referrals are what have allowed me to advance in my career and be a successful agent. I couldn't have done this without them."
Kennedy, who began her career as a real estate agent over 25 years ago, is committed to providing premier service to her clients and is recognized for having high standards of excellence. Kennedy is a graduate of the Real Estate Institute, has completed staging classes (ASP), distressed property classes (CDPE), buyer agency classes (ABR) and is an Associate Broker licensed in Virginia and Maryland. Other awards and honors attained by Kennedy include the RE/MAX Hall of Fame, NVAR Lifetime Million Dollar Club and NVAR Pioneer Club.
RE/MAX Realty Group and RE/MAX 100 have been in business for over 30 years and have the reputation of providing quality service to customers and a quality experience to their realtors by providing them with the tools they need to succeed.