Peterson Companies has partnered with Wounded Warriors Family Support, a national non-profit veterans' organization headquartered in Omaha, Neb., and are implementing the organization's national parking program (Combat Wounded) at several of their shopping centers throughout the Washington, D.C. metropolitan region. Wounded Warriors Family Support (not affiliated with Wounded Warriors) was founded by Col. John Folsom, USMCR who spent 29 years in commissioned service including his deployment to Iraq. He holds the Navy-Marine Corps medal and a Bronze Star along with Meritorious Service medals for his service in support of Operation Iraqi Freedom. Folsom founded the organization mainly to provide valuable assistance to the families of those who have been wounded or killed during combat.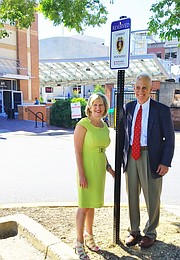 The National Purple Heart Hall of Honor estimates that there are somewhere around 1.8 million Purple Heart recipients. These are combat wounded service members who have transitioned back into civilian life. Many live in the Washington, D.C. region. Wounded Warriors Family Support developed the program to honor the commitment and sacrifice of these national heroes. The organization created Combat Wounded parking signs for Purple Heart recipients to also let them know that they are not forgotten.
"We are pleased to be able to partner with Wounded Warriors Family Support on such a noble effort. Purple Heart recipients have given so much to our country. Peterson is honored to show our support and appreciation by making their lives a little easier in their own communities," said Kelly Price, vice president, Asset Management, Peterson Companies.
"We want to thank Peterson Companies for their support for our wounded veterans. By placing 57 Combat Wounded parking signs at their properties, Peterson Companies is honoring and recognizing these military heroes for their sacrifice defending our freedom," said Folsom.
The 57 Combat Wounded signs can be found at the following properties: Fairfax Corner,East Market, and Fair Lakes Center (Fairfax); and Virginia Gateway (Gainesville, Va.) and at National Harbor (National Harbor, Md.), Downtown Silver Spring (Silver Spring, Md.) and RIO Washingtonian Center (Gaithersburg, Md.). The signs have been placed strategically in the most convenient locations—adjacent and accessible to elevators, ramps and handicapped spaces and are erected using the same guidelines that apply to similar handicap parking signs. Combat Wounded parking spaces can be located on the shopping centers' websites. Wounded Warriors Family Support has distributed more than 3,000 signs across the U.S. at veterans' hospitals and facilities as well as through national retailers.