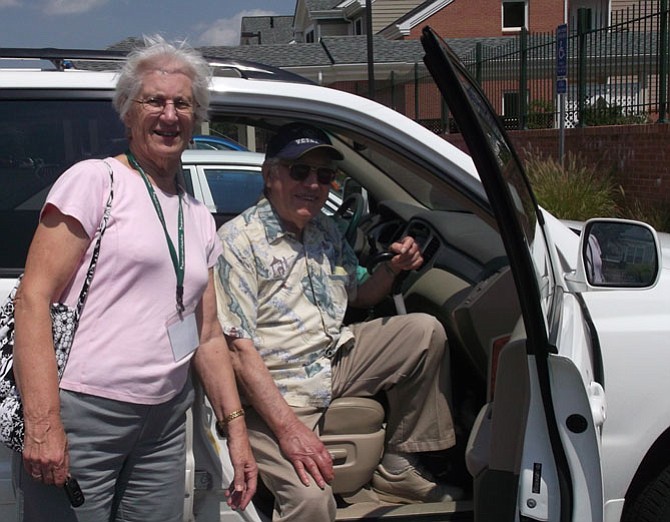 "You start meeting these people and listening to their life stories, and learning tips on how to live your own life." -George Gallimore of Burke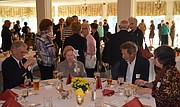 It was the first time Fairfax residents Marilyn Hanick and her husband Robert ever asked for any help. She can drive herself to doctor's appointments at her Fair Oaks area hospital, but for the couple to get Robert to Tysons Corner for appointments for eye injections, his back and hearing problems make it much more difficult.
The Hanicks live in the Olley Glen Senior Residences in Fairfax.
"There comes a time in people's lives when people have to give it up," Marilyn said about driving and getting older. "We finally bit the bullet."
The Hanicks asked for help from the Shepherd's Center of Fairfax-Burke, a 501-c3 non-profit organization with the stated mission "to support and enrich older adults in our community, enabling them to live independently with purpose and dignity."
"It was difficult at first," Marilyn said, " especially when you think independently. We've always done things on our own."
Providing free round-trip rides for local older residents to get to doctor's appointments and go shopping is the bulk of what the Shepherd's Center of Fairfax-Burke has been doing since launching in the fall of 2006.
They also host six-week "Adventures in Learning" program every spring and fall, with a light exercise component that's been expanded into an additional class with light yoga-based activity. Additional programs include a Dementia Caregivers Support Group and Friendly Visitors/Callers service for shut-ins.
THE SHEPHERD'S CENTER of Burke-Fairfax began after (Ret.) Pastor Ron Qualley at Lord of Life Lutheran Church in Fairfax took a survey of the congregation in 2005 and learned many were concerned about being able to stay in their homes as they grew older.
The church's outreach coordinator Arlene Darke of Burke looked to the national Shepherd's Centers of America organization for guidance and was directed to Bill Kirby of the Shepherd's Center of Oakton-Vienna. Kirby was able to mentor Darke and a task force was formed to launch the Fairfax-Burke center.
On Sept. 25, 2016, the Shepherd's Center of Fairfax-Burke celebrated their tenth anniversary with a dinner for volunteers, clients and sponsors at the Fairfax Country Club.
The volunteer force has grown from 20 in the first year to more than 160 now. From that number, a corps of around 65 drivers allows the Shepherd's Center to provide an average of 180 rides each month for older residents.
There are four other Shepherd's Centers in northern Virginia, however Darke, now chair of the Fairfax-Burke center board of directors, said her site is the only one able to regularly meet 100 percent of their ride requests.
Clients for the transportation service range anywhere in age from 55 to 98, Darke said. Most are widowed, are living with disabilities and may not have children, or children who live close.
Last year alone, volunteers gave 2,000 round-trip rides, according to Shepherd's Center board of directors vice chairman Barry Wickersham of Fairfax City.
George Gallimore of Burke has been giving rides two to three times per week for the last seven years. When he signed up for the service, he thought he would be more of a "passive agent" in transporting seniors to their medical appointments.
"What a wonderful surprise," he said. "You start meeting these people and listening to their life stories, and learning tips on how to live your own life."
Gallimore has grown close with several of his clients; as part of the service he stays with them for nearly three hours as they go to appointments, wait in doctors' offices and drive back and forth.
"The tip is how to really overcome adversity," Gallimore said. "Many clients are in some way challenged, they have disabilities. To see how well these people adapt to their environment, their lifestyle, and still maintain a positive attitude about life is quite remarkable."
FOR CLIENTS like Marilyn Hanick and her husband, having drivers who spend time talking and getting to know them helps put them at ease during what would otherwise be stressful times.
"It restores my faith," Marilyn said. "After all the news we go through, you start to think, 'Is everyone bad?' When I meet these people, they're just delightful."
Marilyn said having the transportation service also allows her to not lean on her daughter for help. Although she doesn't live far away, the family is busy with school and outside social and extracurricular activities. Marilyn doesn't like to ask her for help if she doesn't have to.
The Shepherd's Center gives her and her husband that freedom.
"Some people, they've given up," Marilyn said, "just lock themselves in the apartment. You can't do that. I was too active a person."
For more information on the Shepherd's Center of Fairfax-Burke, visit www.scfbva.org.