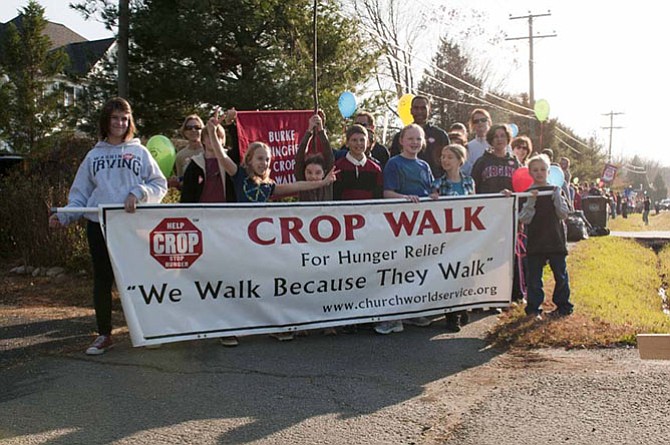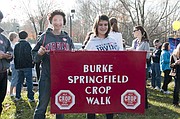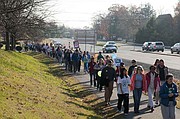 Looking to make a real difference? On Sunday, Nov. 20, hundreds of area residents will be joining together in the 24th annual Burke Area CROP Hunger Walk, and you can be part of it. The Burke Walk is one of more than 1,100 CROP Walks held each year as part of a nationwide effort to raise money and awareness for hunger relief, locally and globally. Worldwide, nearly 800,000 people, or about one in nine, face hunger every day. Poor nutrition causes nearly half the deaths in children under five — 3.1 million children each year. One third of children in developing nations are malnourished; in the U.S., nearly one in five children lives in households that struggle to put food on the table.
The good news? CROP Walkers are helping to change these statistics. When people participate in the CROP Walk, they are not supporting "cookie cutter" programs that might not be sustainable. They are creating solutions that are tailored for each community's culture, resources, and unique needs. They are saving lives!
In the past 23 years, more than 5,900 Burke CROP Walkers have raised more than $408,800 to relieve hunger globally through Church World Service, and more than $102,200 to help hungry people in our own community. Last year alone, the Walk raised more than $37,000, and the goal is to do even better this year.

The money raised helps provide food and water, as well as resources that empower people to meet their own needs ̶ from seeds and tools, to wells and water systems, to technical training and micro-enterprise loans. An afternoon of CROP Walking will also make a difference to communities here in the U.S. recently ravaged by floods and fires to recover. And twenty-five percent of the money raised in the Burke Walk stays in the Burke, Springfield, Fairfax, Fairfax Station, and Clifton area to support the important anti-hunger and emergency assistance provided by Ecumenical Community Helping Others (ECHO) and Western Fairfax Christian Ministries (WFCM).
You can be part of making a difference by joining other local residents at the 24th annual Burke Area CROP Hunger Walk on Sunday, Nov. 20. Registration begins at 1:30 p.m., with the walk starting at 2 p.m., at Living Savior Lutheran Church, 5500 Ox Road, in Fairfax Station. The walk ends at Fairfax Presbyterian Church, Fairfax, with a water break mid-way. Shuttles will be available at both the starting and ending locations. Upon completion, participants will enjoy refreshments, awards, and live entertainment to celebrate the community spirit of a job well done.
All walkers must register. There is no registration fee; however, walkers are encouraged to sponsor themselves and set a personal fundraising goal by collecting pledges from others. Registration/Sponsor envelopes can be obtained from participating groups, or by contacting Janet Smith (703-455-9025 or BurkeVA.CROP@cox.net). Walkers can also register online at www.crophungerwalk.org/burkeva . For more Walk details, visit www.burkecropwalk.org.