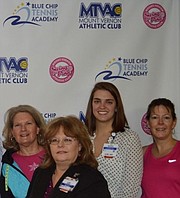 The Mount Vernon Athletic Club (MTVAC), a fitness and tennis club, will hold its 11th Annual "Swing for Pink" tennis charity event for Breast Cancer Awareness Month on Oct. 28 from 6:30-11 p.m. The event is open to the public.
Since 2006, the club has been hosting this event and has raised over $124,000 for the cause. The funds raised by Swing for Pink are used at the Breast Care Institute at INOVA Mount Vernon Hospital and the Joseph Viar and Bonnie Christ Cancer Center at INOVA Alexandria Hospital to help patients face the challenges of this disease, including assistance with coordinating appointments, nutrition, and questions about their various conditions.
The charity event is open to the public and includes a tennis round robin, a silent auction, dinner, wine tasting, and more. In addition to event sponsor, Joan Van Metre, and host sponsor, Kihomac, Inc., major 2016 sponsors include: Blue Chip Tennis Academy and Dr. Brian Bodnar of Bodnar Chiropractic.
Gordon and Anita Murchie and the Atlantic Seaboard Wine Association (aswawines.org) will provide the wines and oversee the wine tasting portion of the evening and member Stephanie Melvin of Wisteria will provide the flowers/arrangements.
MTVAC is located at 7950 Audubon Avenue in southern Alexandria. See www.mtvac.net