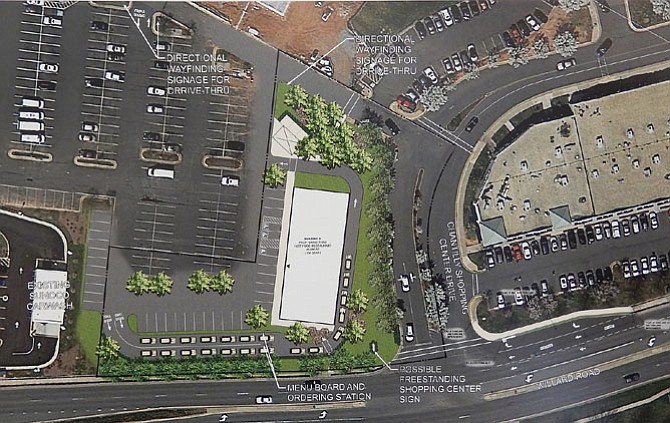 A new, fast-food restaurant is planned for the Chantilly Place Shopping Center on Willard Road, east of Route 28. It just needs Fairfax County's approval for a drive-through use associated with it.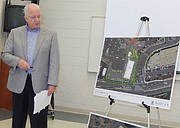 Although specifically which restaurant will go there hasn't yet been decided, it's intended to be about 5,600 square feet and would go on a 1.4-acre site. It's slated for construction between the newly renovated Sunoco gas station/quick- service food store and carwash already there and the easternmost entrance to Chantilly Place.
Attorney Frank McDermott presented details of the proposal during a recent meeting of the West Fairfax County Citizens Association (WFCCA) Land-Use Committee. He said the restaurant, itself, could be built there by-right, but the drive-through window requires a special-exception permit from the county.
The applicant is the Pence Group, which owns the shopping center. And the main access to the restaurant would be via westbound Willard Road.
"Kevin Fellin of [traffic engineers and consultants] Wells & Associates did a traffic study for this application," said McDermott. "His study reflected that the left-turn lane has enough [vehicle] stacking capacity. And there'll be a new, right-turn lane from Willard, as well, and we'll put up directional signage [for the customers]."
WFCCA's Carol Hawn suggested painting directions in the parking area, itself, and McDermott said it could be done because "the applicant owns the entire shopping center."
However, added the Pence Group's Jeff Pence, "The restaurant will have lots of repeat customers, so they'll quickly learn the way."
WFCCA member Mark McConn asked if cars parking at the events at the nearby Dulles Expo Center would cause the restaurant any traffic problems, but Pence said they didn't anticipate any. "We also own and operate the Expo Center," he said. "So we look and see how any changes will affect our business."
Hawn then recommended approval of the special-exception application and the WFCCA voted unanimously in favor of it. McDermott also noted the county staff approves it. The proposal has not yet gone to the Planning Commission or Board of Supervisors.