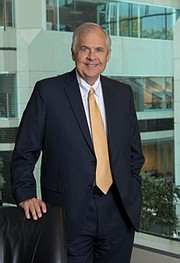 J. Knox Singleton, CEO of Inova Health System, will be recognized by the Community Foundation for Northern Virginia for his history of leadership and stewardship, providing world-class healthcare to all members of the diverse Northern Virginia community, regardless of ability to pay with the 2016 Community Leadership Award. The longest standing community based recognition award in Northern Virginia, it will be presented at the Community Foundation's annual Raise the Region Gala on Oct. 7, 2016 at the Hilton McLean Tysons Corner.
The award is presented annually for outstanding commitment and dedication to improving the quality of life for all Northern Virginians. More than 600 business leaders, philanthropists, and community organizers participate in this event to celebrate the charitable work of the Community Foundation and to raise funds to support the critical needs of the Northern Virginia community.
J. Knox Singleton is CEO of Inova, the region's leading not-for-profit healthcare system that serves more than 2 million people annually. Since 1983, Knox has led Inova's evolution from a collection of small, stand-alone hospitals into an award-winning health system, nationally recognized for clinical excellence, innovation and outstanding patient care. In keeping with Inova's community service mission, Knox serves on several boards. He is co-founder of the Global Good Fund, which works to coach and mentor future leaders, and co-founder of the Community Coalition for Haiti, which creates community-driven solutions in healthcare, education, and community development in Haiti. Knox has received numerous personal awards and recognitions, including the 2015 CEO of the Year by the Washington Business Journal.
"As the CEO of our region's leading nonprofit health care system, Knox has brought his personal, life long commitment to the needs of the underserved to the fore ," said Eileen Ellsworth, President of the Community Foundation for Northern Virginia. "As a result, Inova Health System works for the entire community, helping all Northern Virginians live longer, healthier lives. This is a singular and unique achievement, and we are therefore delighted to honor Knox Singleton with this year's Community Leadership Award."
The evening will feature a cocktail reception and silent auction followed by dinner, live auction and award presentation. Dress is black tie attire.
Raise the Region Gala sponsorships start at $750 and include tickets and recognition at the event and in Community Foundation publications throughout the year. Individual tickets are $300. More information, along with a sneak preview of the auction, is available at www.cfnova.org/gala or contact Tara Nadel, Director of Communications and Events at the Community Foundation for Northern Virginia, at tara.nadel@cfnova.org or 703-879-7637.