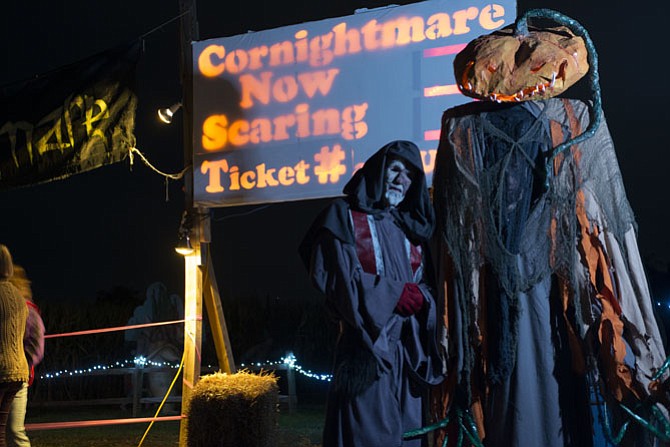 The 90-acre autumn wonderland that is Cox Farms is holding its 44th annual Fall Festival. The festival is open daily through Oct. 31 and Nov. 4-8 at 15621 Braddock Road, off Pleasant Valley Road in Centreville.
What's new to explore this year? "For 2016, Treetops is really exciting," said Aaron Cox-Leow, co-farmer-in-chief, who lives on the farm in Centreville with his partner and four kids. "We also replaced our well-loved wooden boat, plus we got another one that's twice as big."
Treetop is Cox Farms' take on a tree house: a series of connected, raised platforms to explore, with giant bark-covered utility pole "trunks" as their bases. Treetops visitors can take in the 360-degree views of the festival grounds from above, and enjoy interactive features including flag-raising and noise-making. Treetops also features two slides, one fully covered tube slide and one open slide.
In addition to the new TreeTops, the Fall Festival features hayrides, giant slides, rope swings, the Cornundrum Cornfield adventure, the Imaginature Trail, and all sorts of farm animals and their babies. Friendly goats welcome visitors to their redesigned Billy Goat Village, where they can visit and feed them. Each slide is themed differently, so visitors will fly out of castles, barns, and volcanos, exploring everything from dinosaur digs to mining towns to giant beanstalks.
"While the parent of the kid spending two hours digging for coins in the Penny Pit may disagree, there's really no wrong way to 'do' the Fall Festival," said Cox-Leow. "I love seeing parents follow their child's lead about where to go and what to do next. There's always something new to explore."
Cox-Leow said for Pokemon Go players, the farm happens to be somewhat of a PokeMecca. "We've got more than 20 Pokestops and three gyms, and just for fun, we'll be luring at least a dozen stops for an hour every Wednesday afternoon," he added.
On Wednesday afternoons in October, they'll be luring at least a dozen Pokestops around the festival grounds and along the hayride route. Visitors can take advantage of discounted "Last Call" tickets starting at 4 p.m. to "catch 'em all" while also enjoying hayrides, slides, and all the fun of the Fall Festival, hatching eggs along the way, he added.
To support local public servants, Cox Farms offers a $5 discount on up to four Fall Festival tickets to public servants during Pumpkin Madness Weekend (Nov. 5-6). Government employees, educators, first responders, law enforcement, nurses and members of the military can save $5 by presenting a valid badge or identification.
Back by popular demand this year are two Fall Festival weekday "value visit" options introduced in 2015. There will be "Discount Weekdays" during the 2016 season (Sept. 29 andOct. 3, 4, and 5), during which admission will be $6 all day. On October weekdays (not including Indigenous People's Day, Monday, Oct. 10) after 4 p.m., there are $5 "Last Call" tickets.
Cox Farms members and Fear Fanatics receive additional discounts and offers. Sign-up is available through the website as is additional information about perks of the program.
When night falls on the farm, it's time for Fields of Fear! Friday and Saturday nights through Nov. 5, plus "Bonus Night" Sunday, Oct. 9. The friendly Imaginature Trail takes a dark turn for Fields of Fear, transforming into The Forest: Back 40. The Forest has doubled in length for 2016, and now consists of half a mile of fear. The Forest joins two other haunted attractions at Fields of Fear, the Dark Side Hayride and the Cornightmare. The Firegrounds feature several bonfires, a six-lane slide, music, entertainment, tasty treats, and Fear Games, including the dark maze, Nyctophobia (which means "Fear of the dark").
Details
Fall Festival Schedule
Daily: Now through Oct. 31 and Nov. 4-8
Pumpkin Madness: Nov. 5-6
Hours: 10 a.m. – 6 p.m. (closing at 5 p.m. in November); last admission one hour before closing.
Fields of Fear Schedule
Friday and Saturday Nights: Now through Nov. 5
Bonus Night: Sunday, Oct. 9
Hours: 7:30 – 11 p.m.; last admission at 10 p.m. (some attractions may sell out earlier)