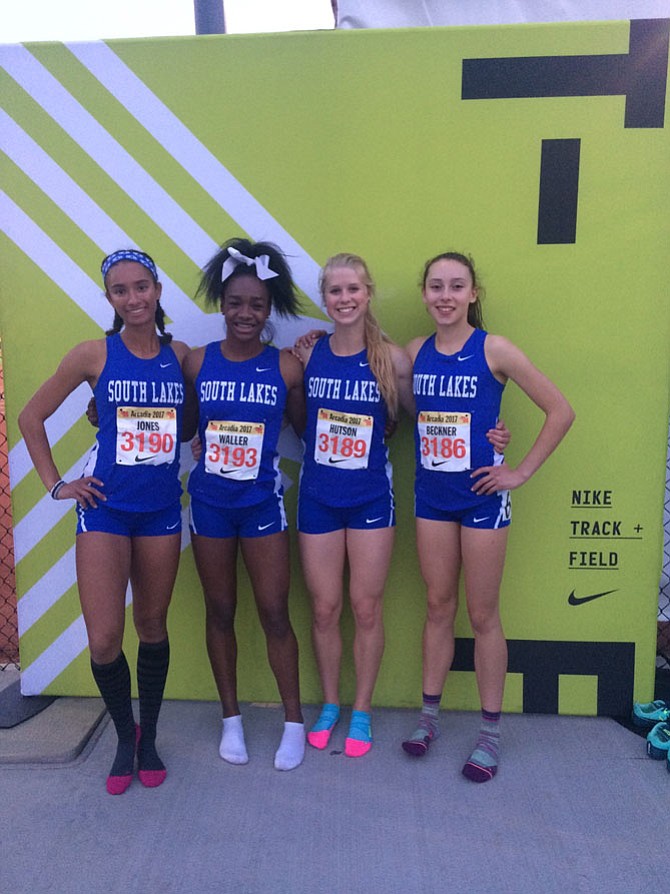 South Lakes High School track athletes took advantage of three meets during spring break to qualify for postseason competition and break a couple of records. Despite less than ideal conditions on the first day of the Northern Virginia Invitational Friday, April 7 at James Robinson Secondary School, several Seahawks persevered through the cold and windy conditions to qualify for the Liberty Conference championship next month. They include:
Freshman Marissa Bangle (12:15.30, 19th), sophomore Isabelle Gulgert (12:04.56, 12), junior Sean Casey (9:56.37, 6th) and senior Peter Sepulveda (10:23.28, 21st) in the 3,200 meter run.

Junior John Eggeman in the 400 meters (52.50, 14th)

Junior Madie Evans (28-09.50, 5th) and senior Jessica Rice (27-11.00, 10th) in the shot put.

Junior Ronak Cuthill in the discus (127-01.00, 4th)

Senior Abby Wickman (7-00.00, 7th) and junior Megan Allison (7-00.00, 6th) in the pole vault.
Day two of the NVI produced the sun and warmer temperatures, which made for Northern Region qualifying marks for junior Jamie Richard in the discus (105-07.00, 1st) and Wickman in the 300 meter hurdles (48.40, 6th).
Out in California, the Sprint Medley Relay team of freshman Hannah Waller, sophomore Cara Hutson, junior Olivia Beckner and senior Devyn Jones finished sixth with school-record time of 4:06.84. The previous mark of 4:07.00 was set in 2015.
Jones, who was also a member of that 2015 team, finished sixth in the 100 meter hurdles with a state qualifying time of 14.63 and was 25th in the 300 meter hurdles with a Northern Region qualifying time of 47.24. Waller ran state qualifying times of 12.41 in the 100 meters and 25.53 in the 200 meters.
Senior Timiebi Ogobri ran a state qualifying time of 11.09 in the 100 meters. In the 800 meters, sophomore Sophie Halkett ran a Liberty conference qualifying time of 2:24.05 while junior Alex Loukili did the same in the boys division with a 2:01.31
SLHS closed out spring break by participating in the Leslie Sherman Memorial Invitational April 13 at West Springfield, Va., where the 4x100 meter relay team of Jones, Waller, sophomore Danielle Spears and freshman Rhema Konadu won the event in a state-meet qualifying and meet record time of 49.02.
Junior Olivia Beckner ran a state qualifying time of 2:14.43 to finish second in the 800 meters while Loukili finished third in the boys division with a region qualifying time of 1:59.00.
Ogobri ran region qualifying times in the 200 meters (22.70, 2nd) and the 400 meters (51.27, 7th). The boys team also qualified for region in the 4x800 meter relay. The team of Sepulveda, Casey, Loukili and senior Jack Watkins ran a 8:12.03 for third.
Junior Ronak Cuthil continued his reign in the throw events by winning the shot put with a state-qualifying distance of 49-07.00 and the discus with a Northern Region qualifying throw of 141-07.00. Not to be outdone, junior Jamie Richards won the girls discus with a region qualifying throw of 108-01.00.
South Lakes was scheduled to compete in a conference meet Wednesday, April 19 at Langley High School and then the Hall of Fame Invitational April 21-22 at Lake Braddock Secondary School in Burke.